NEWS
"hololive 3rd fes. Link Your Wish Supported By Weiß Schwarz" DAY2 Report
hololive, a VTuber group under the agency "hololive production", hosted their 3rd all-star live event "hololive 3rd fes. Link Your Wish Supported By Weiß Schwarz" on March 19-20, 2022.
This concert marks their 3rd all-star event after their "hololive 1st fes. "Nonstop Story", back in January 2020 at TOYOSU PIT and their "hololive 2nd fes. Beyond the Stage Supported by Bushiroad" later that year. Hosted along with "hololive SUPER EXPO 2022" and consisting 19 talents per day, this was their biggest live concert ever with a total of 38 talents performing on the stage.
This was their first live concert with AR technology and live band performances in front of a live audience. This also marked their first live concert together with their overseas VTuber groups hololive Indonesia (hereinafter referred to as "holoID") and hololive English (hereinafter referred to as "holoEN").
The cast for DAY2 is as follows.
0th Generation: Tokino Sora, Robocosan
1st Generation: Yozora Mel, Aki Rozenthal
2nd Generation: Minato Aqua, Murasaki Shion, Nakiri Ayame, Yuzuki Choco
hololive Gamers: Ookami Mio, Nekomata Okayu
3rd Generation: Usada Pekora, Shiranui Flare
4th Generation: Tsunomaki Watame
5th Generation: Yukihana Lamy, Shishiro Botan
hololive Indonesia: Ayunda Risu, Airani Iofifteen
hololive English: Takanashi Kiara, Mori Calliope
For talents who were not able to participate in the live event, they took part in this event as narrators for their respective languages.
Japanese: Sakamata Chloe and Kazama Iroha from Secret Society holoX
English: Ouro Kronii, Nanashi Mumei, and Hakos Baelz from holoEN
Indonesian: Kureiji Ollie, Anya Melfissa, and Pavolia Reine from holoID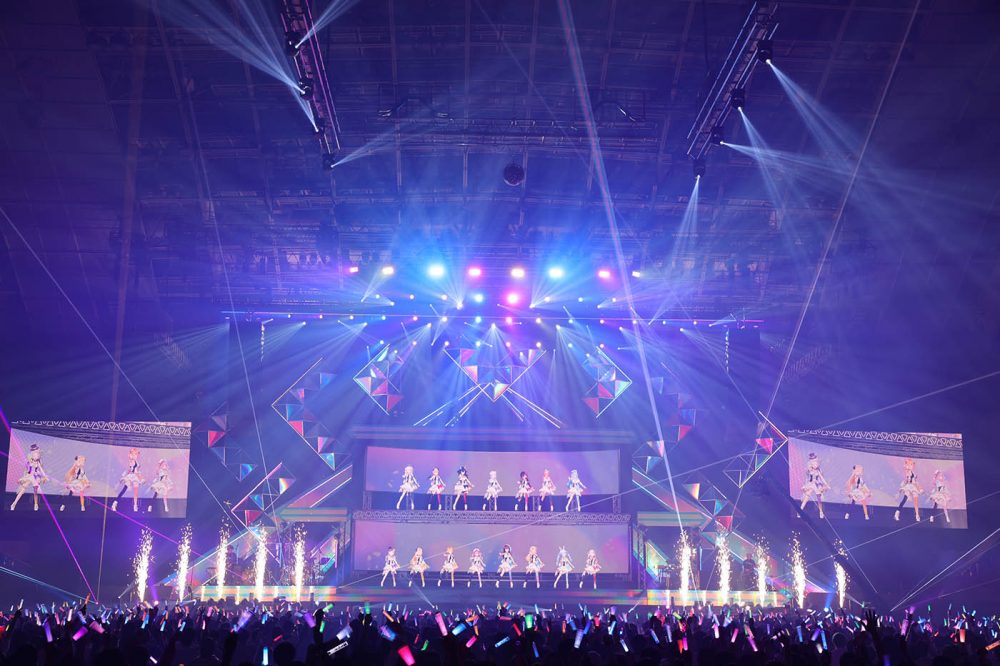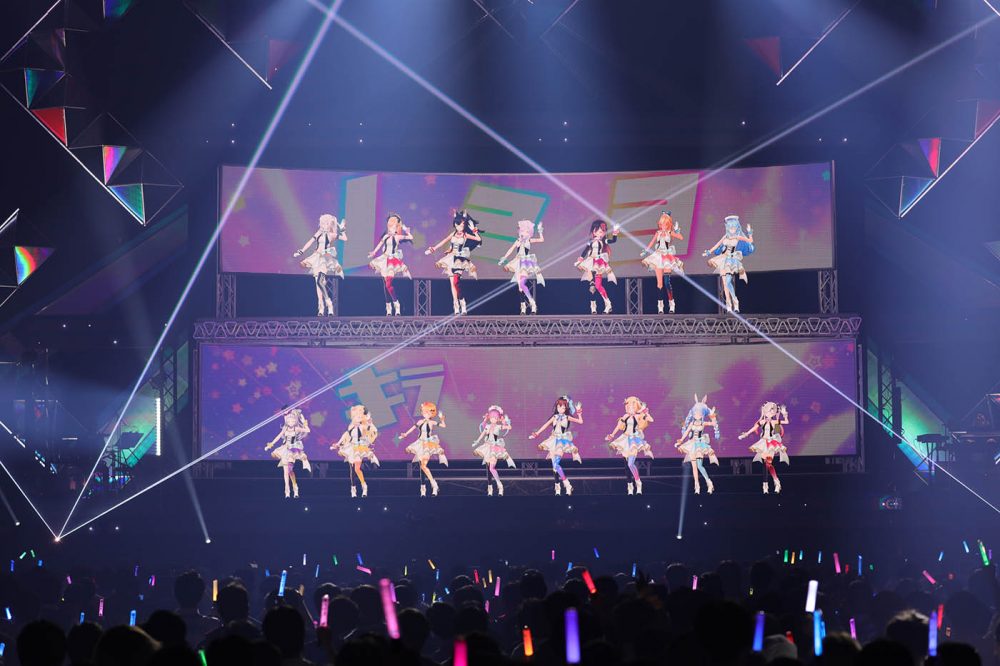 Unlike DAY1 which began with hololive's very first all-star song "Shiny Smily Story", DAY2 kicked off with another famous all-star song "Kirameki Rider". With the harmony that all the talents created together with the fireworks on the stage, the hype gauge of the stage reached its peak at the very first song.
Next up was the half-elves of hololive. Aki Rosenthal from Gen 1, Shiranui Flare from Gen 3, and Yukihana Lamy from Gen 5 together performed the famous Vocaloid song "At God's Mercy" by rerulili. At the start of their performance, they appealed to the audience that DAY2 will be as awesome as DAY1. With the oriental background animation together with their fan marks, they hyped up the audiences with their dances.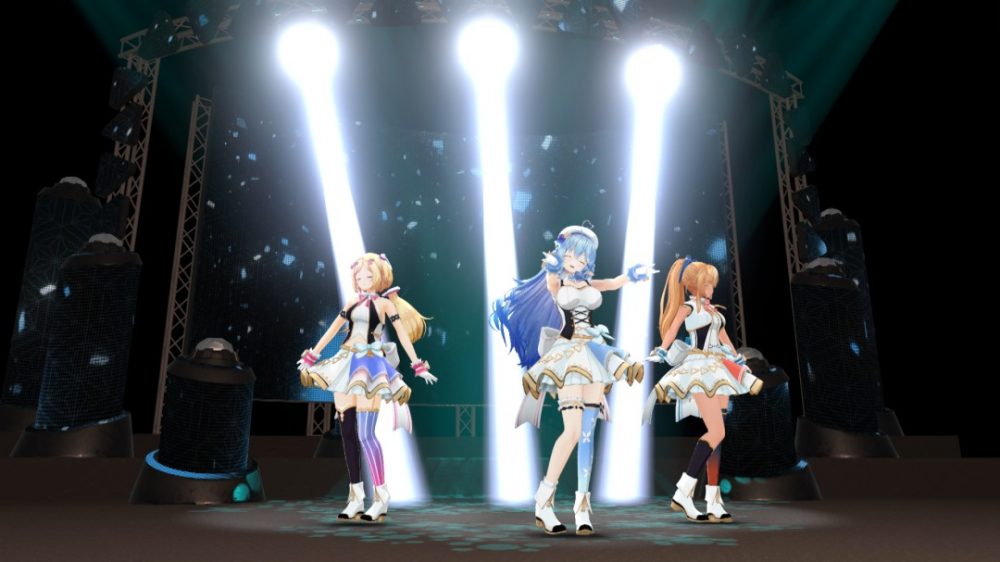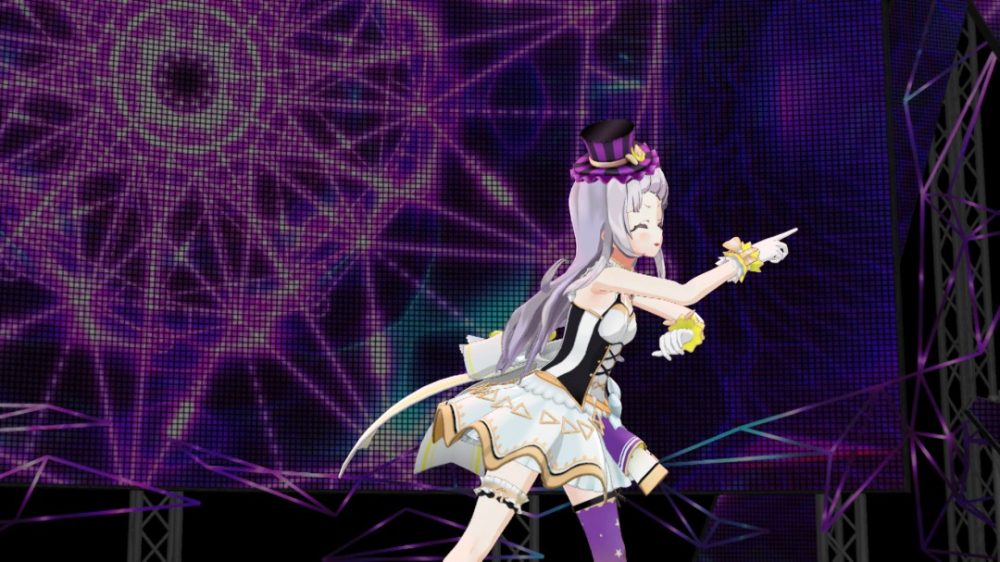 In the next performance, it was Murasaki Shion from hololive Gen 2 who rocked the stage with her first original song "Mage of Violet", which is composed by Kaririki Bear and arranged by Surii. Once the intro kicked in, it heated up the stage and covered it in Violet. Her performance with a little hint of jazz swing to it was worth a round of applause.
The next act was also from Gen 2. As Nakiri Ayame appeared on the stage, so did the sea of red light sticks from the audience. She performed her original song, "Yoi no Yo, Yoi!", which was composed by Masahiro Takeda of Dream Monster, who also worked on the song "Hyakka Ryouran Hanafubuki. In the interludes, Nakiri Ayame became one with the audience who swung their light sticks to her calls.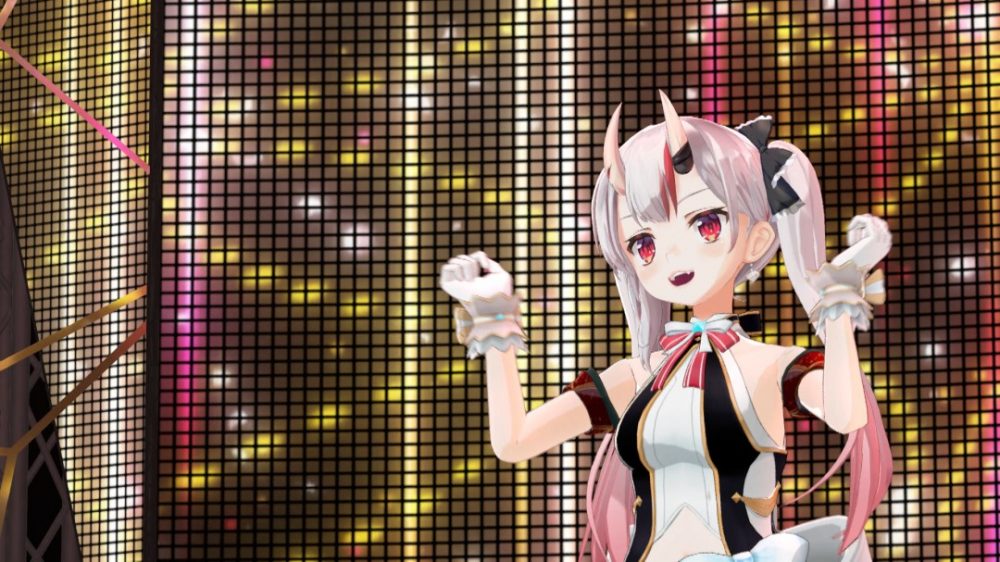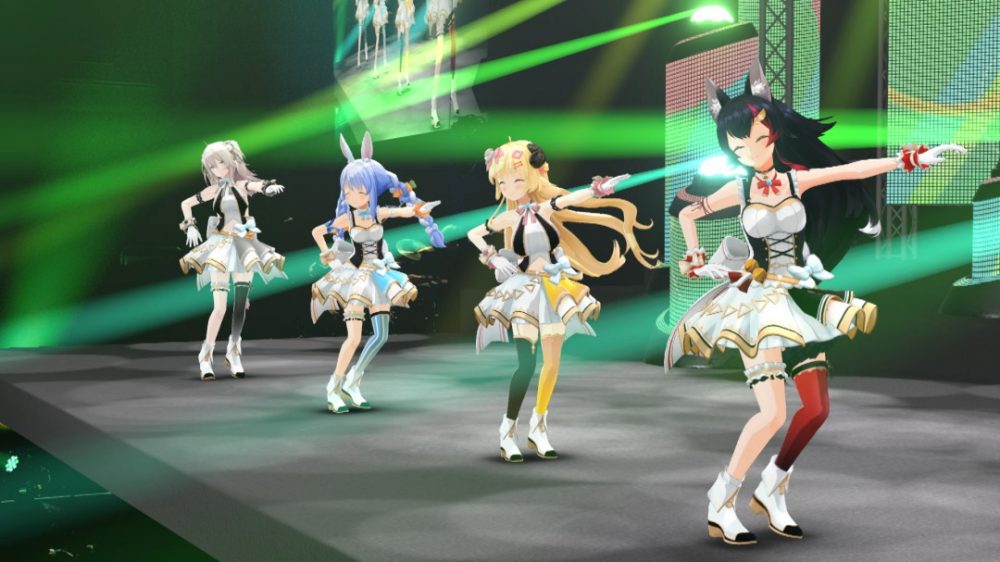 Do you like animal ears? Because next up was a group performance by Ookami Mio, Usada Pekora, Tsunomaki Watame, and Shishiro Botan. They performed a song cover of "Doubutsu Uranai" by Scop. It was a rare sight to see these members, defying the hierarchy of the hololive food chain, performing on a stage together with big smiles on their faces. Their dance routine was as equally cute as their characters as well.
Continuing the hype, it was Tsunomaki Watame, after successfully performing her solo concert "1st Live Watame Night Fever!! in Zepp Tokyo", who performed her famous original song "My Song", which was written by Tomoya Tabuchi and composed by Shota Horie. Unlike her calm and soothing nature, her voice was emotional and impactful enough to indulge the audience in her performance. She ended her performance by telling her fans that she would not give up and would keep challenging new things.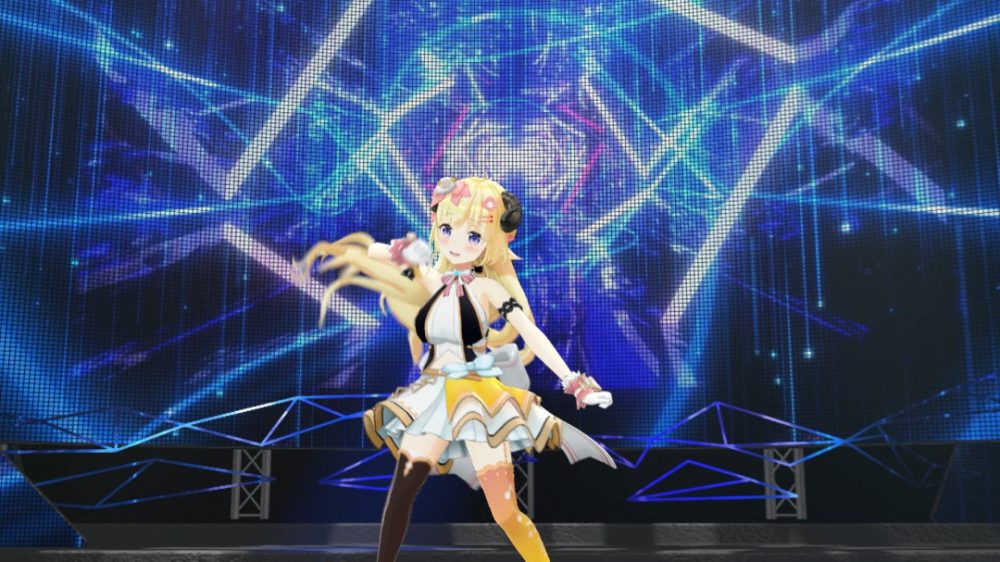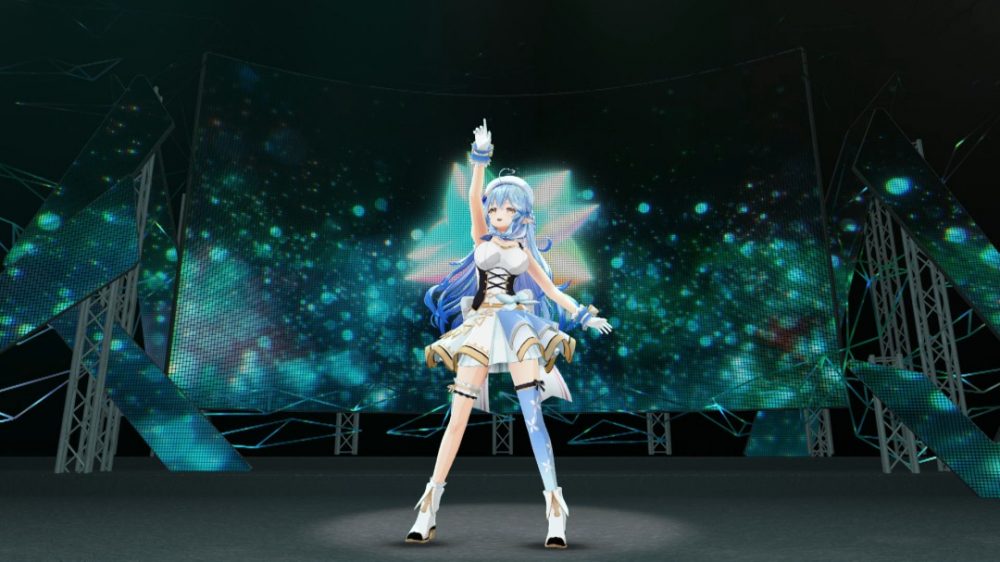 Next in the line was Yukihana Lamy who performed her original song "Asuenokyokaisen", which was produced by Youhei Kihara of "Love Live!" fame. She is not really known for her karaoke streams. However, on this day, her characteristics as an idol shined brightly on the stage. Her idol outfit adorned with her hat matched perfectly with the stage as well.
Yozora Mel from hololive Gen 1 performed her original song "Chew the Night Sky", which was composed by Junky who also composed other hololive songs such as "aqua iro palette" and "aimai chocolate". The tempo of the performance changed in multiple stages after her cute narration. Her dancing and singing in 3D performance were absolutely wonderful as well.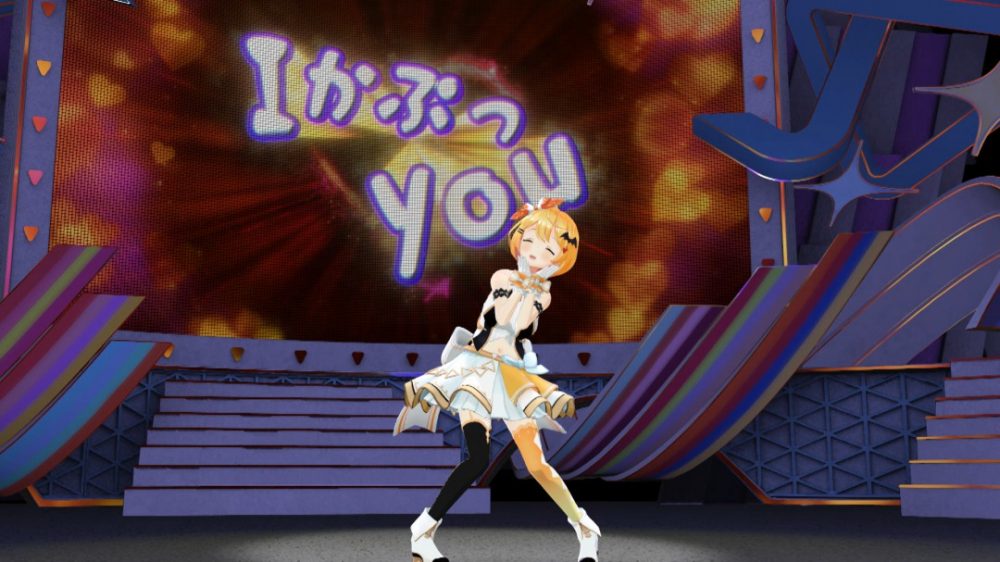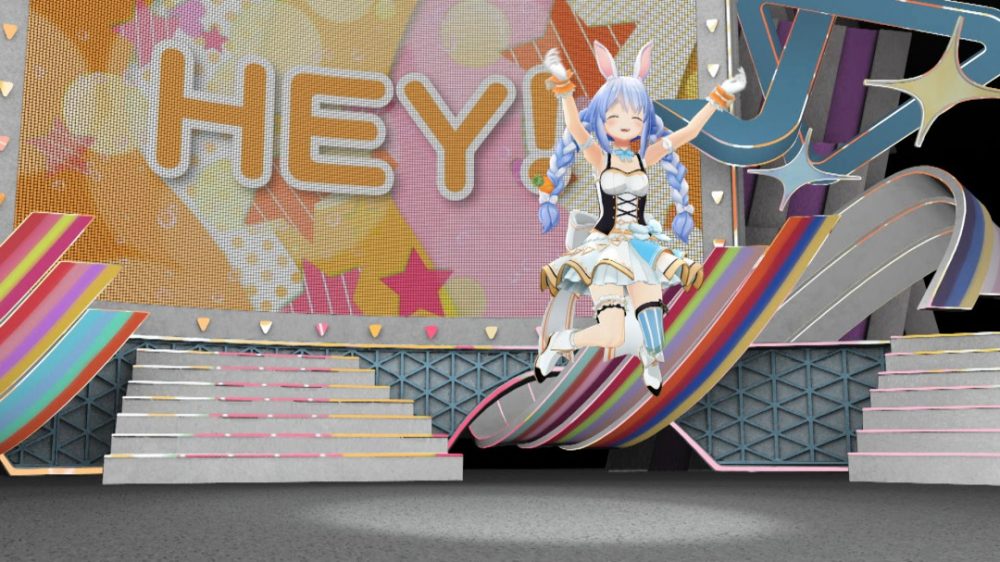 Next up was Usada Pekora. With a cheerful "Let's go!", she performed a song cover of "Q&A Recital!", the OP of the TV Anime "My Little Monster" by Haruka Tomatsu. Her conductor-like choreography and cute pop dances were heartwarming. She asked the audience to clap during the interlude and praised them on an "Impekoble job!"
Yozora Mel and Yuzuki Choco's duo "Melkiss" performed their first original song "Choco♡Melty". As they hyped up the audiences at the beginning, countless hearts rose up behind them. Their steps were synced perfectly, even in minute details, and their cute yet sexy moves appealed to many in the audience.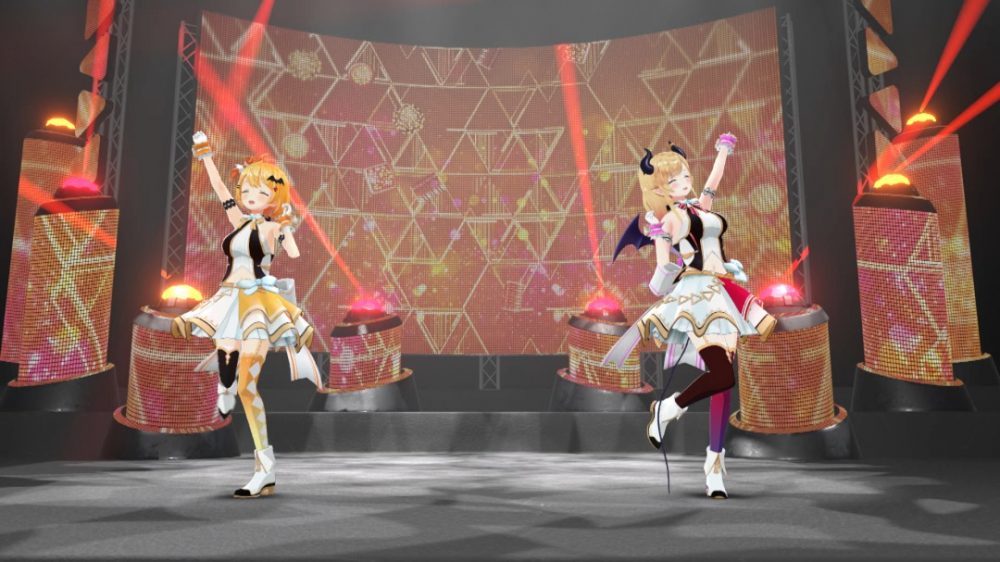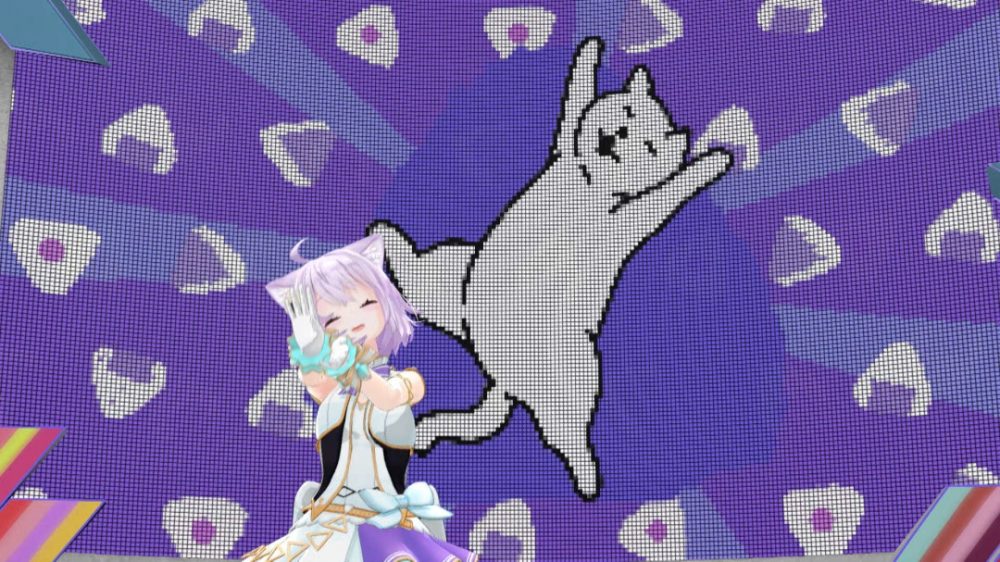 "It's not about whether it is delicious or not. It's about whether it suits your palate!" stated Nekomata Okayu from hololive Gamers followed by the performance of her original song "Mogu Mogu YUMMY!", a song composed by PinocchioP. She ended her performance saying, "Oh no, I am running out of breath now." while tapering off right at the end of her song. It was truly an Okayu moment.
Another song composed by Junky, Yuzuki Choco's performed "ChocoLove"! With the background filled with animated chocolates and hearts, she performed mesmerizing dance moves that fit her looks to the audience. She also thanked them and stated that she wanted to cover them with Choco's lovely chocolates.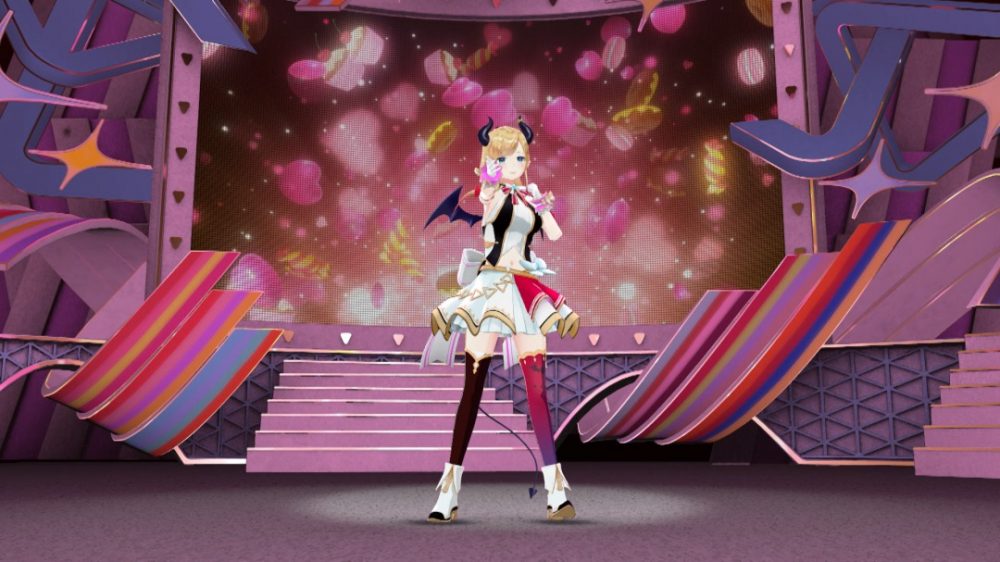 hololive's music knows no boundaries. There is always a song that fits every talent perfectly. Aki Rozenthal's original song "SHALLYS" is exemplary because it is sung in the traditional style of Aki Rosenthal's Elf homeland with a language that is not known to us. As her acapella started with a dance that resembled a mix of ballet and belly dance, the stage was turned into a fantasy world.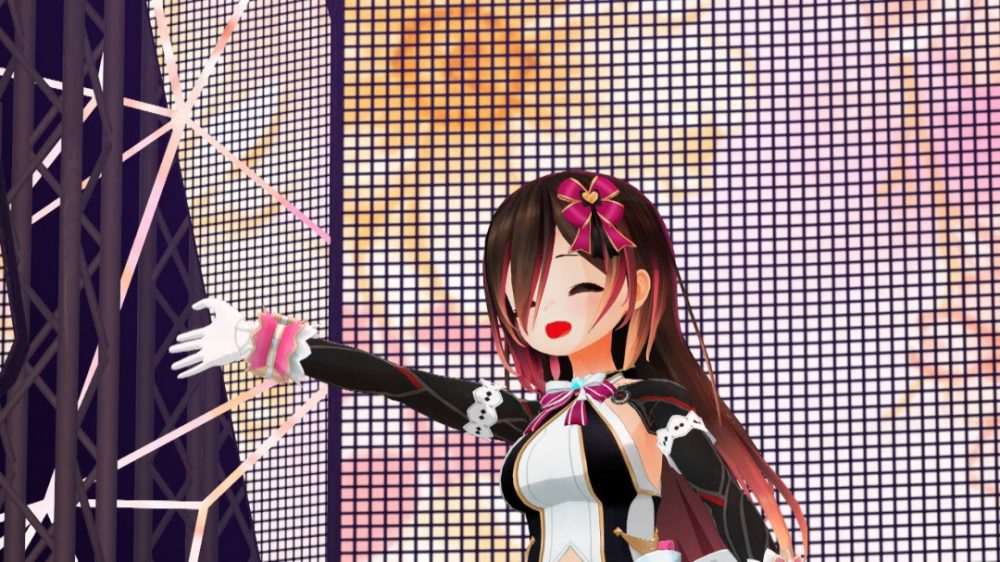 Robocosan from hololive Gen 0 performed her original song "Kotonoha" with band members playing acoustic sounds for her. Her warm and soothing whispery voice wavered not only the light sticks but the hearts of audiences as well. She thanked her fans for coming and requested that they enjoy the event.
Continuing the hype from DAY1, holoID and holoEN made their long-anticipated 3D debut on the stage. DAY2's 3D debut kicked off with the skilled Grim Rapper of holoEN, Mori Calliope with her song "Red", a song written by her. Her fast, insane rap skills combined with sick dance moves absolutely dominated the stage.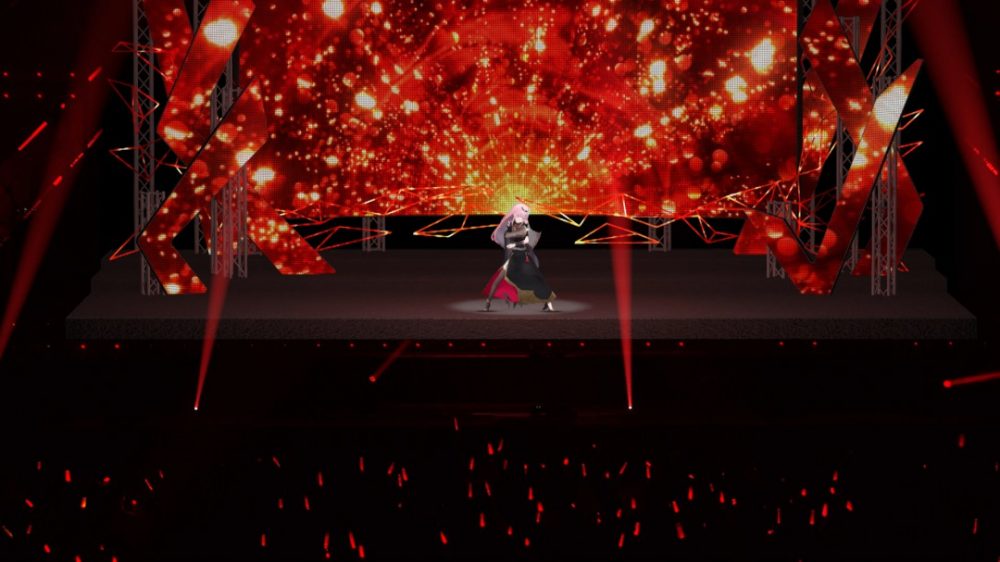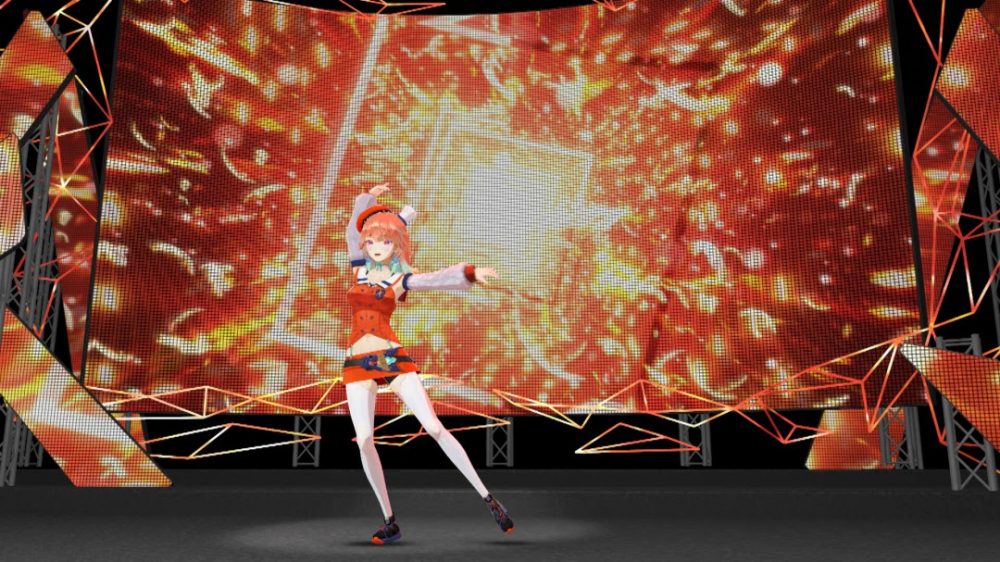 Next up was Takanashi Kiara with her original song "Hinotori", a song written by Aya Shinno and composed by Kai Gojo (Arte Refact). This song well represents her perseverance just like a phoenix. Her lovely voice and wonderful dance moves, coupled with the cheers during the interludes, absolutely marked her as a great idol.
From holoID, it was Airani Iofifteen who performed her original song "Q&A=E", a song composed by Junky. With colorful spotlights that matched the paints on her outfit, her performance was on the cuter side compared to other overseas talents. She also showed off her multilingual side by singing the song in Japanese.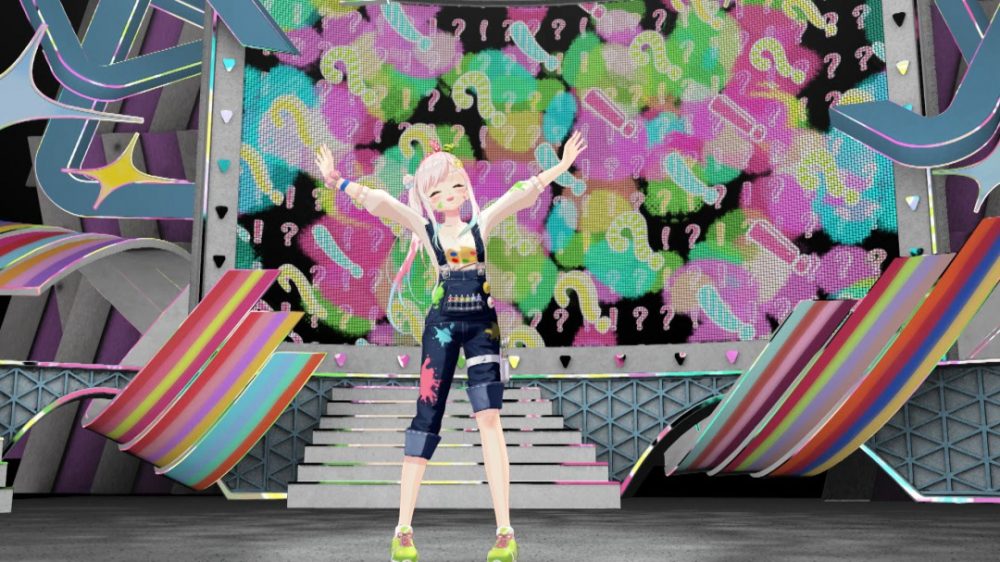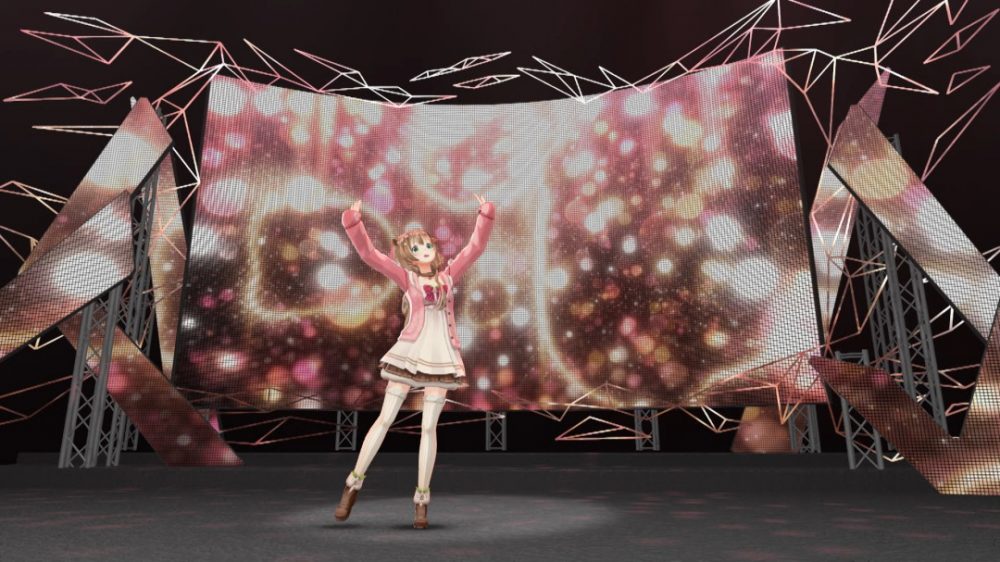 Next up was Ayunda Risu with her original song "ALICE&u", a song written by her and composed by Feryquitous. She is known for her exquisite singing skills among the holoID members and she definitely showed off her strengths here on the stage. Contrary to her soft steps on the stage, her high-pitch voice made many audiences tremble with joy.
Back to hololive JP, Minato Aqua, Murasaki Shion, and Nekomata Okayu performed a song cover of "phony", a song composed by TSUMIKI. The friendship between these three which has lasted since ancient times needs no explanations. However, the truth is that although they performed with one another as duos a couple of times, this is their first-ever performance together as a trio. Still, they performed gracefully even with the quite complicated choreography and positionings.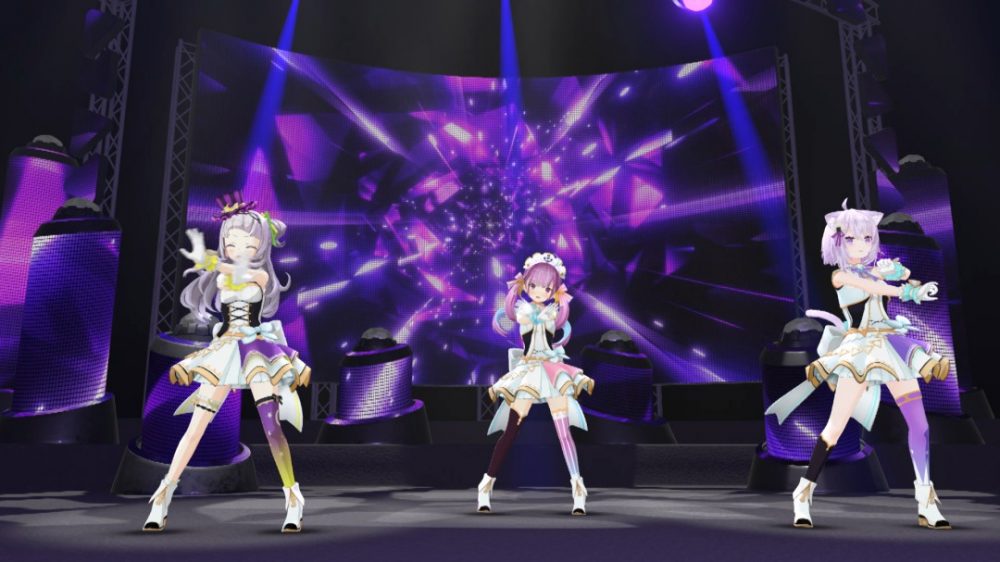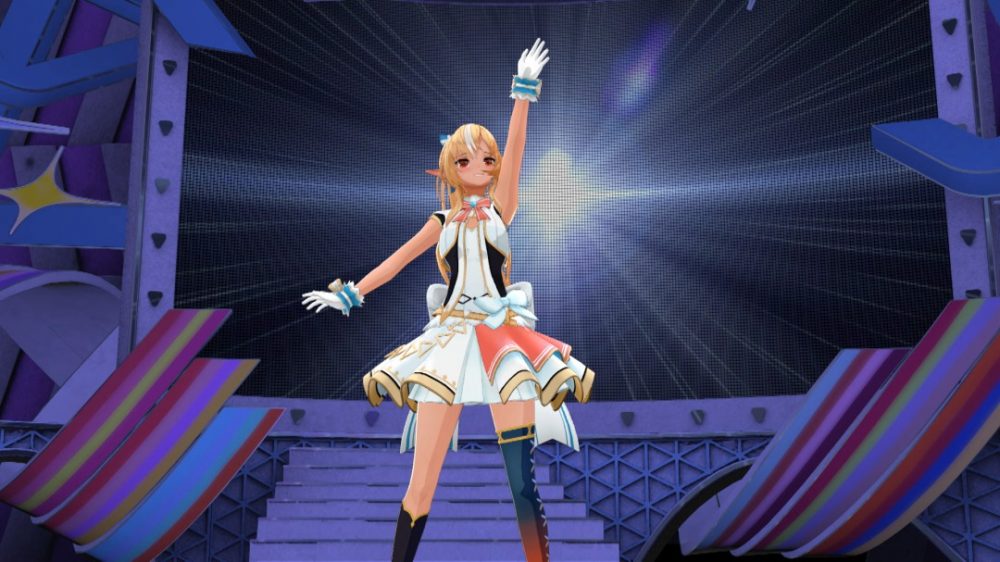 The live concert is slowly reaching its end but you know it is not over when it is time for Shiranui Flare with the famous Vocaloid song "Chikyuu Saigo no Kokuhaku wo", a song composed by Shota Horie, also known as "kemu" in the Vocaloid scene. Flare always delivers when it comes to live performances and she absolutely did it this time as well. With the flower petals falling through the sunset, her soft yet emotional voice filled the entire stage.
The hype did not end when Ookami Mio appeared on the stage to perform her original song "Howling", a song composed by ZAQ. It was such a dramatic song that you often see as a soundtrack of a masterpiece anime but Mio sang the song with ease. With a soothing smile on her face, she asked the audience to enjoy the concert up till the final song.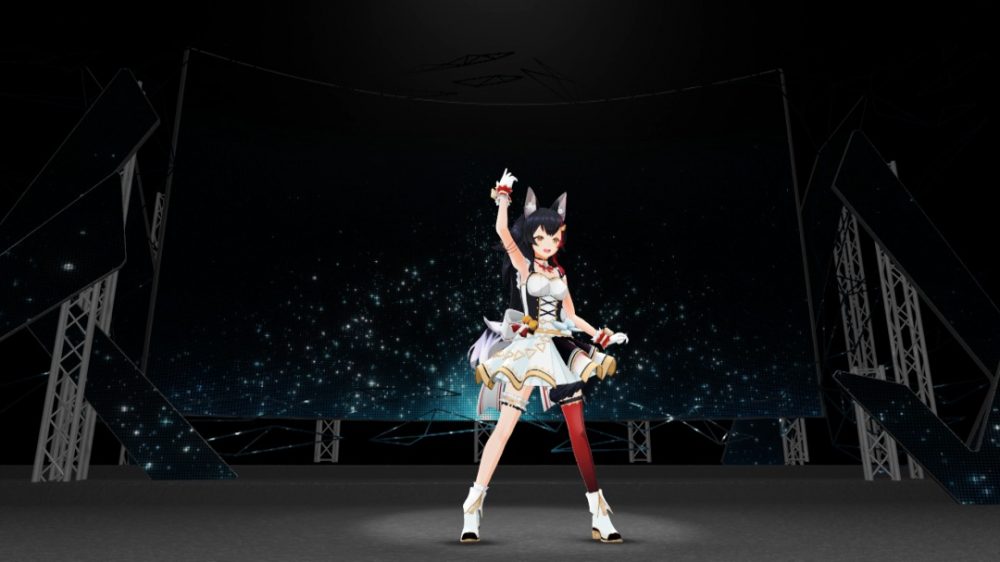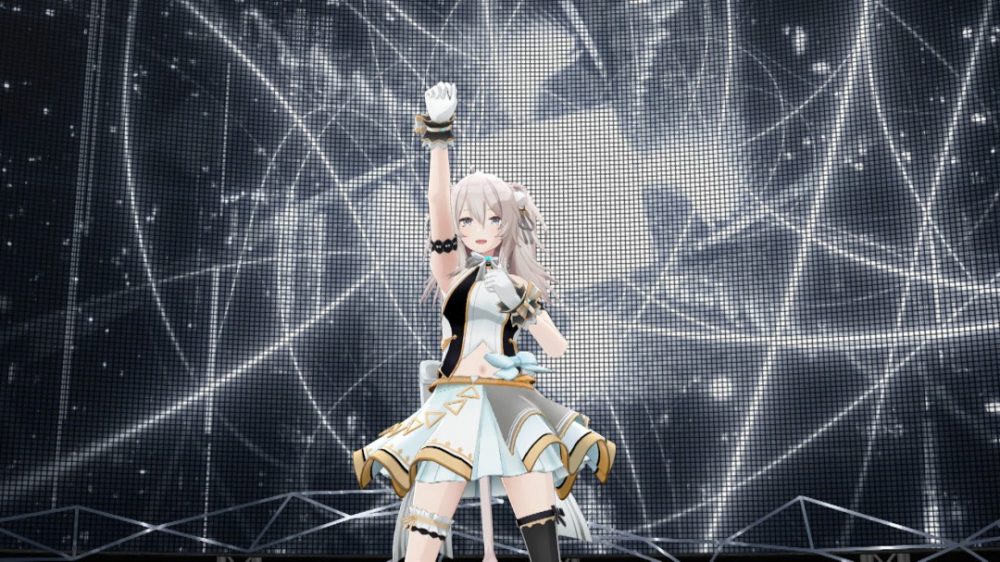 Next in the line was Shishiro Botan with her original song "Lioness' Pride", a song composed by Camellia. With the synthesizer sounds trembling like a wobble bass, the white spotlights shining upon her and, with the live band performance, it was truly a great opportunity to acknowledge Botan's growth in her singing.
3rd fes. would not end without Minato Aqua performing her original song "KAISOU RESSHA, a song written and composed by 40mP. As the song intro started and reverberated, the stage was filled with a roller coaster of emotions. "I am glad that you are here today and that I can watch this scenery together with you!" were the words before she sang with her hands wide open, connecting the song and the stage.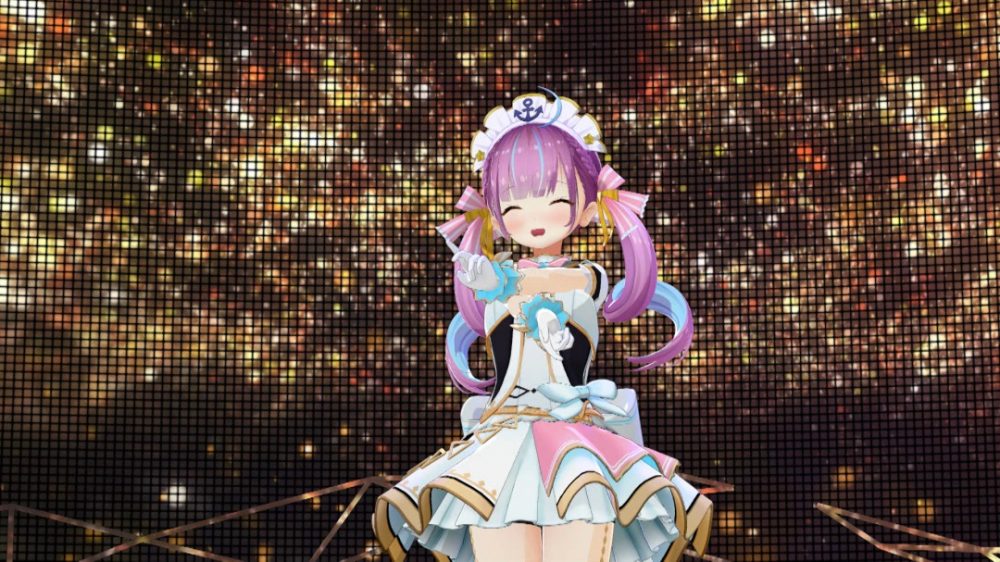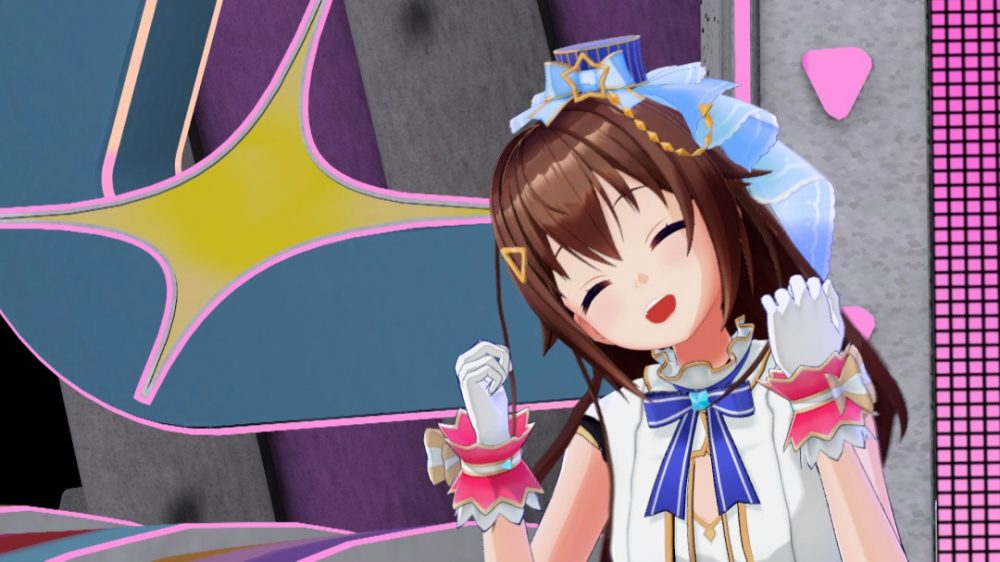 The last solo performance of the day was by none other than the "Origin of hololive", "The One and Only" Tokino Sora. She performed her original song "Step and Go!!" from her 2nd Album "ON STAGE!". With graceful turns, excellent singing, and dancing skills, she was the idol among all idols. Many have been infatuated with the performance and the hype which continued from the last performance was still prevalent in this stage as well.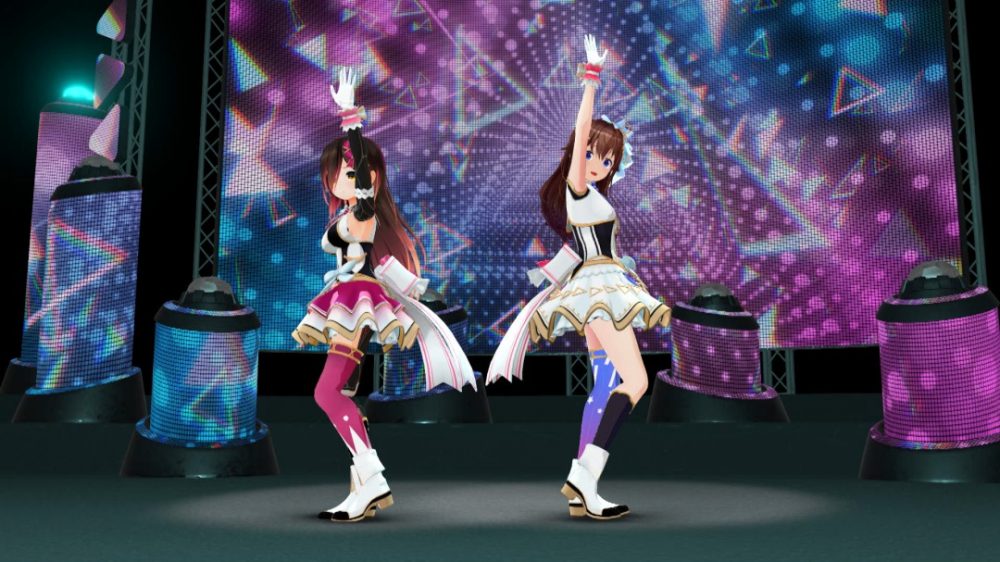 The last unit performance of the day was by Tokino Sora and Robocosan. From the dawn of the VTuber era, back when hololive was not even a production, these two have been the bread and butter, the anchor who guided hololive from the dawn to the new era. Now as a duo, they performed a song cover of the famous Vocaloid song "BRING IT ON", a song composed by Giga. With Sora singing the high notes and Robocosan on the lows that are surprisingly different from her usual vocals, the contrast between these two was the perfect combination that was needed to hype the concert till the very last moment.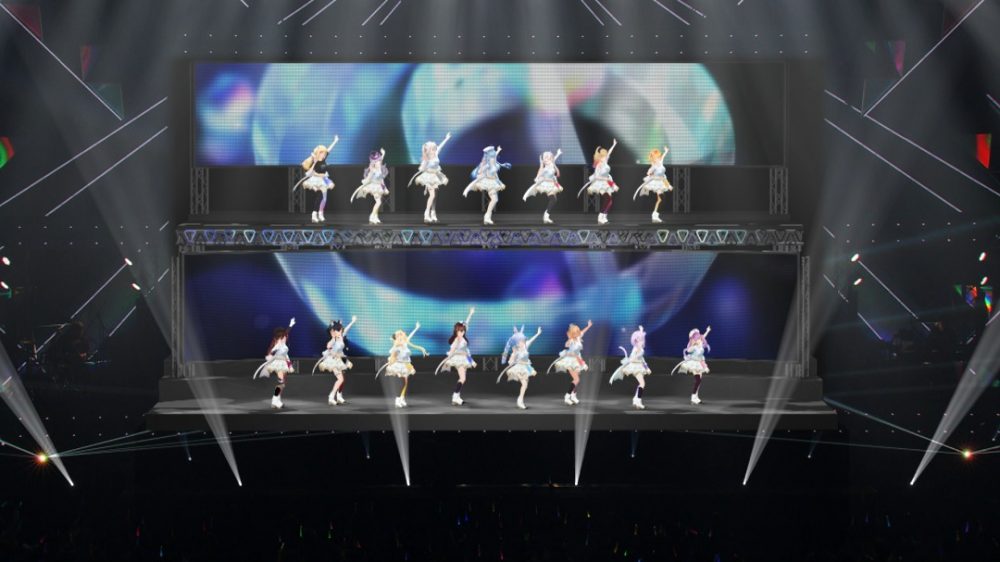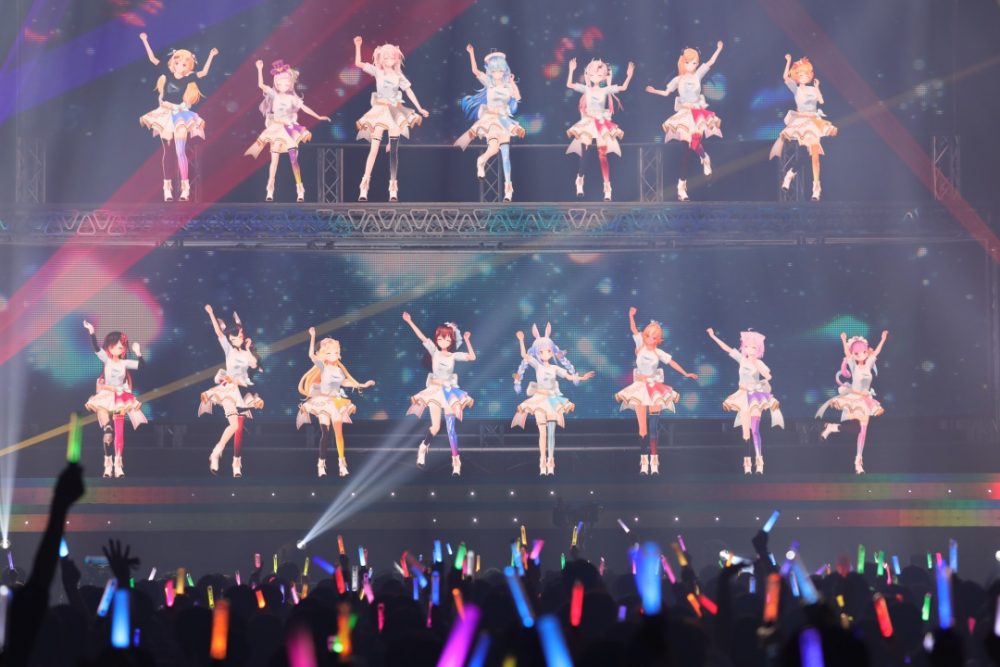 Just like with DAY1, the group performance by the hololive talents marked the grand finale of DAY2 as well. They performed the latest all-star song "Prism Melody", a song composed by 5u5h1. As they sang through the song, the audience responded with a round of applause. What a fitting end for a roller coaster ride that was the 2-day live concert. However, their roller coaster does not stop here. Their journey will continue on and on from here.
On a side note, for the last performance of the day, talents were able to choose between white and black t-shirts of their liking. Surprisingly on DAY2, it was only Aki Rosenthal who chose a black T-shirt and stood out among the talents. After the concert, fans referred to this incident as the "Swimmy Incident" and it trended in many online Japanese communities. This well represents the soothing, family-like nature of hololive.
"hololive 3rd fes. Link Your Wish Supported By Weiß Schwarz" had a mouthful of surprises such as a full AR live concert with band performances, the 3D debut of overseas hololive members, and many more. This 2-day event, with hololive's striking appeals, was surely a grand opportunity that linked everyone's hearts and souls beyond boundaries, as the event title suggests.
Article by Jin Sugiyama
Photography by Nakamura Yutaka https://twitter.com/yutamacaron
●Tickets for the "hololive 3rd fes. Link Your Wish Supported By Weiß Schwarz" stream archives.
▼SPWN
・DAY1 (March 19): 5,500 JPY (tax included)
・DAY2 (March 20): 5,500 JPY (tax included)
・DAY1 & DAY2 (Bundle): 10,000 JPY (tax included)
* The archives will be available until 23:59, April 20, 2022 (JST)
* You can re-watch the archives as long as they are available.
* After 23:59, April 20, 2022 (JST), the archives will be unavailable even if it is being played at the moment.
Tickets are available at: https://virtual.spwn.jp/events/22031901-jphololive3rdfes
▼Niconico Official Stream
・DAY1 (March 19): 5,500 Nico Nico Points
・DAY2 (March 20): 5,500 Nico Nico Points
・DAY1 & DAY2 (Bundle): Nico Nico Points
*1 Niconico Point is equivalent to 1 JPY (tax included)
* The archives will be available until 23:59, April 20, 2022 (JST)
* You can re-watch the archives as long as they are available.
* After 23:59, April 20, 2022 (JST), the archives will be unavailable even if it is being played at the moment.
Tickets are available at: https://blog.nicovideo.jp/niconews/161864.html
BACK