NEWS
"hololive 3rd fes. Link Your Wish Supported By Weiß Schwarz" DAY1 Report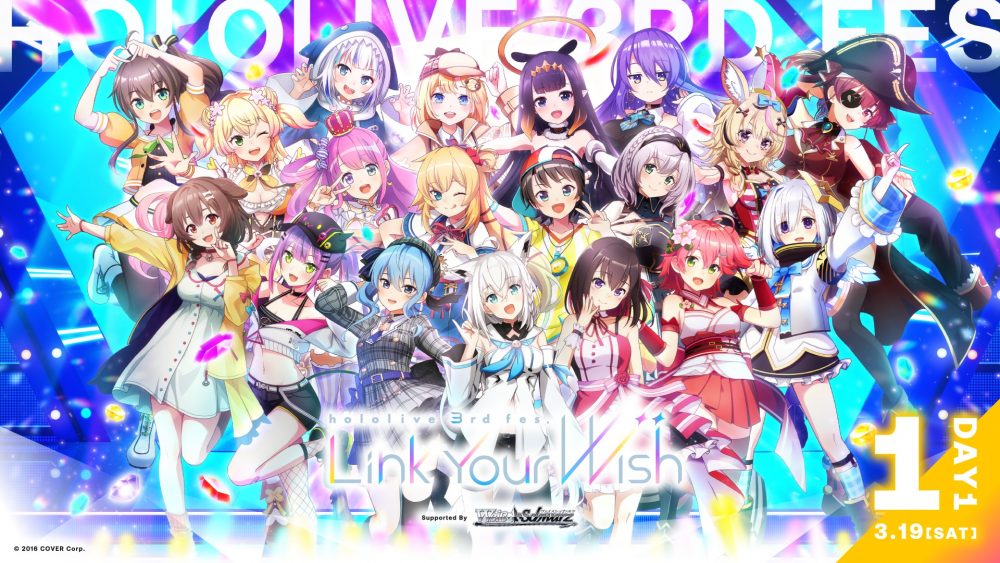 hololive, a VTuber group under the agency "hololive production," hosted their 3rd all-star live event "hololive 3rd fes. Link Your Wish Supported By Weiß Schwarz" on March 19-20, 2022.
For hololive talents who focus on dancing and singing aside from their live streams, this was one of the most hyped events they anticipated all year long. They hosted their first-ever all-star live concert "hololive 1st fes. Nonstop Story" back in January 2020 at TOYOSU PIT.
In December later that year, they hosted their 2nd all-star live concert, "hololive 2nd fes. Beyond the Stage Supported by Bushiroad" in an even bigger scale that lasted for 2 days. Due to the circumstances regarding the global pandemic, the 2nd all-star live concert was held online with no live audience in attendance. It is to be noted that the last song of the concert was performed with AR technology in such a way that the talents appeared to approach the audience beyond the stage.
Their 3rd all-star live concert, which was held at Makuhari Messe, was hosted along with the "hololive SUPER EXPO 2022" over the course of two days. With each day consisting of 19 talents, this was their biggest live concert ever with a total of 38 talents performing on the stage.
The main selling point of this event was their first-ever group performance with AR technology, live band performances, and most importantly with a live audience. This also marked their first event together with their overseas VTuber groups hololive Indonesia (hereinafter referred to as "holoID") and hololive English (hereinafter referred to as "holoEN"). Their participation in the event had lots of obstacles including the global pandemic situation. However, as the name of the event "Link Your Wish" indicates, this has become a great opportunity to link all the wishes of overseas talents and their fans as well.
The cast for DAY1 is as follows.
0th Generation: AZKi, Sakura Miko, Hoshimachi Suisei
1st Generation: Akai Haato, Shirakami Fubuki, Natsuiro Matsuri
2nd Generation: Oozora Subaru
hololive Gamers: Inugami Korone
3rd Generation: Shirogane Noel, Houshou Marine
4th Generation: Amane Kanata, Tokoyami Towa, Himemori Luna
5th Generation: Momosuzu Nene, Omaru Polka
hololive Indonesia: Moona Hoshinova
hololive English: Ninomae Ina'nis, Gawr Gura, Watson Amelia.
For talents who were not able to participate in the live event, they took part in this event as narrators for their respective languages.
Japanese: La+ Darknesss, Takane Lui, and Hakui Koyori from Secret Society holoX
English: IRyS, Tsukumo Sana, and Celes Fauna from holoEN
Indonesian: Kureiji Ollie, Anya Melfissa, and Pavolia Reine from holoID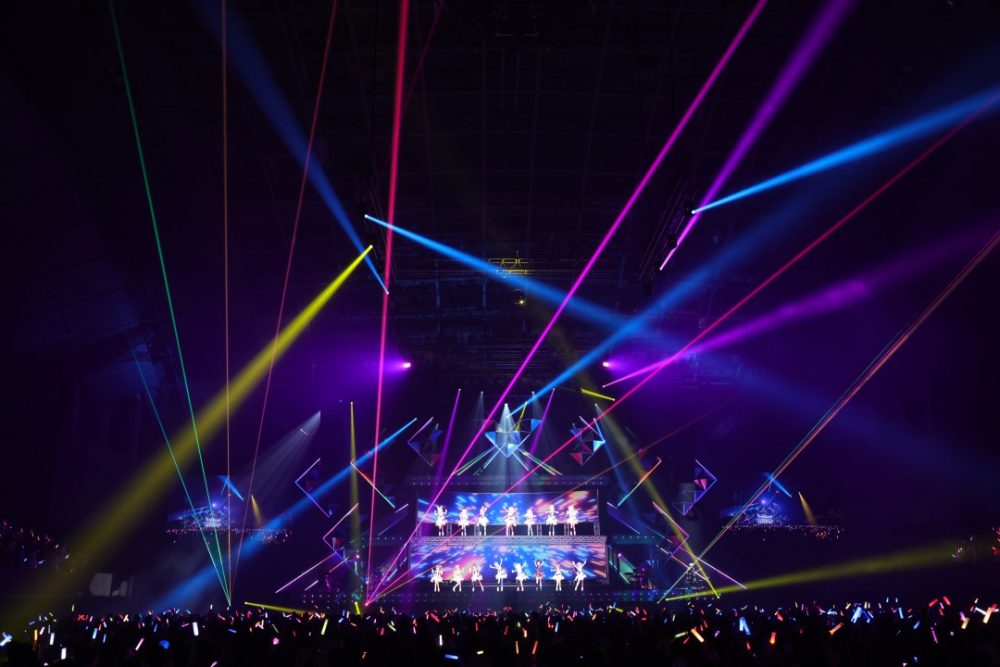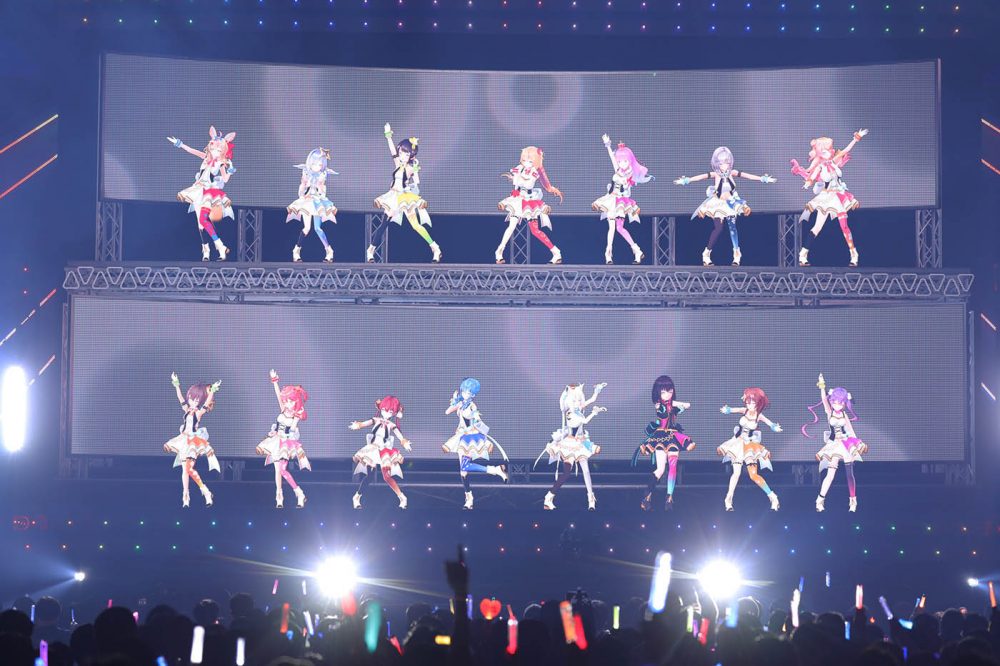 DAY1 kicked off with hololive's first original all-star song "Shiny Smily Story" on a 2-storey stage that resembled hololive's logo. The stage was filled with colorful spotlights, light sticks, and lively energy as all 15 talents started singing.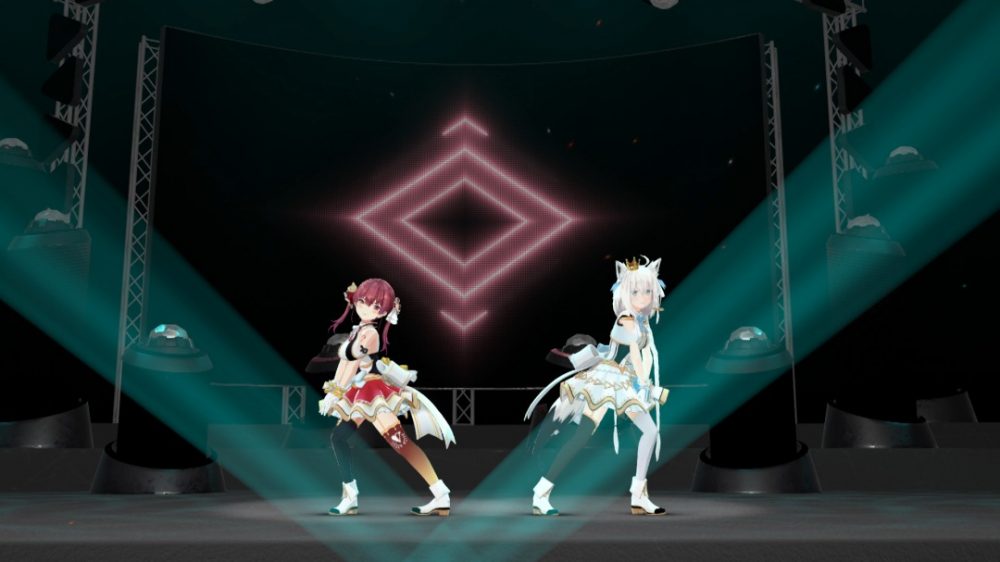 Next up was Shirakami Fubuki and Houshou Marine. Famous for their radio "hololive presents VTubers Raving about Faves!" and their duo "BABACORN", they performed their theme song "Happiness World." After their usual greetings, the event site was hyped up with their perfectly synchronized choreography.
One thing to take note of up until this point is that this live performance was full of so much presence coming from each talent's performance combined with the AR technology that it made you feel the hype of the stage. What makes it even more amazing is the band performance coming from the corners of the stage and the impact of the bass that makes even your heart tremble. With everything mentioned above combined together, it made talents shine even more brightly, and made the songs even more impactful.
After her medical treatments, Amane Kanata from hololive Gen 4 made her grand return on the stage. She sang "Tokusya-Seizon Wonder-la-der!!", an original song composed by Tabuchi Tomoya. She started the performance with the call "Let's go!" which was followed by all the hype the band performance created. Kanata even performed a special choreography as if she was playing the guitar during the interlude. The song ramped up until the final moment when the fans responded to the chorus back with the light sticks, making the performance truly brilliant.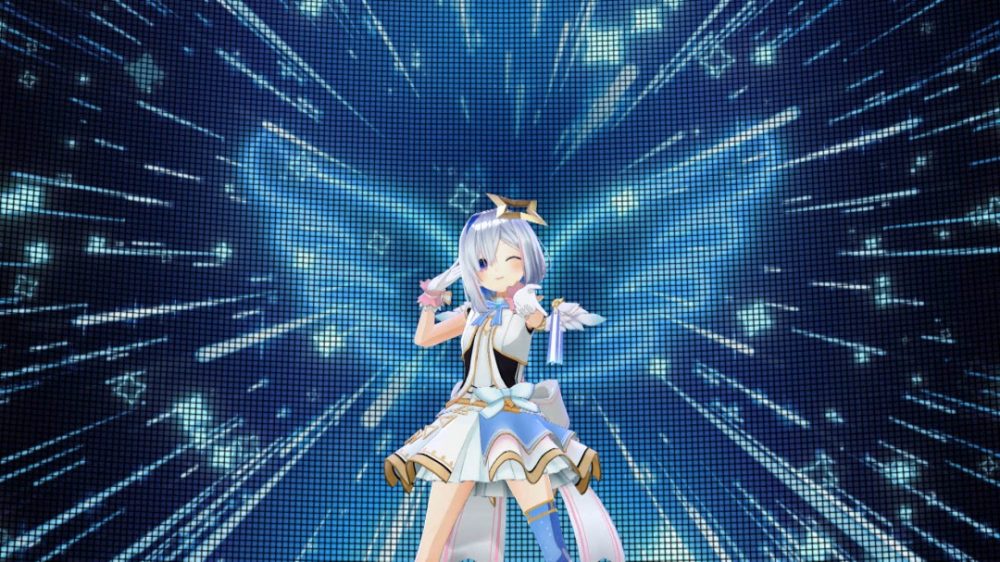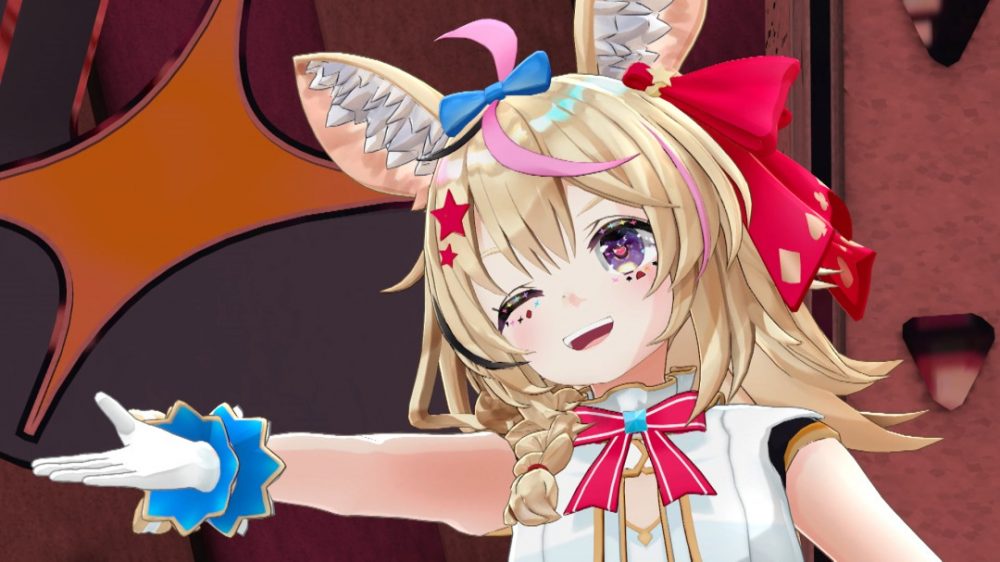 Next in the line was Omaru Polka from hololive Gen 5, performing her original song "HOLOGRAM CIRCUS". Her performance kicked off with an event-exclusive version narration "Welcome! You are the chosen special guests of the Polka Circus in Makuhari!" and hyped the event with the wonderful jazz-like acoustics that fit perfectly with the song and the event as well.
Inugami Korone, a member of the group hololive Gamers and known for her unique and unexpected song selections in her 3D live performances, astonished the audience once again with the song cover of the "Can't Defeat Airman" which derived from the retro game series "Mega Man" that she played in her live streams. Her choreography matched perfectly with the retro game theme of the song. She even surprised the audiences with a cartwheel performance during the interlude.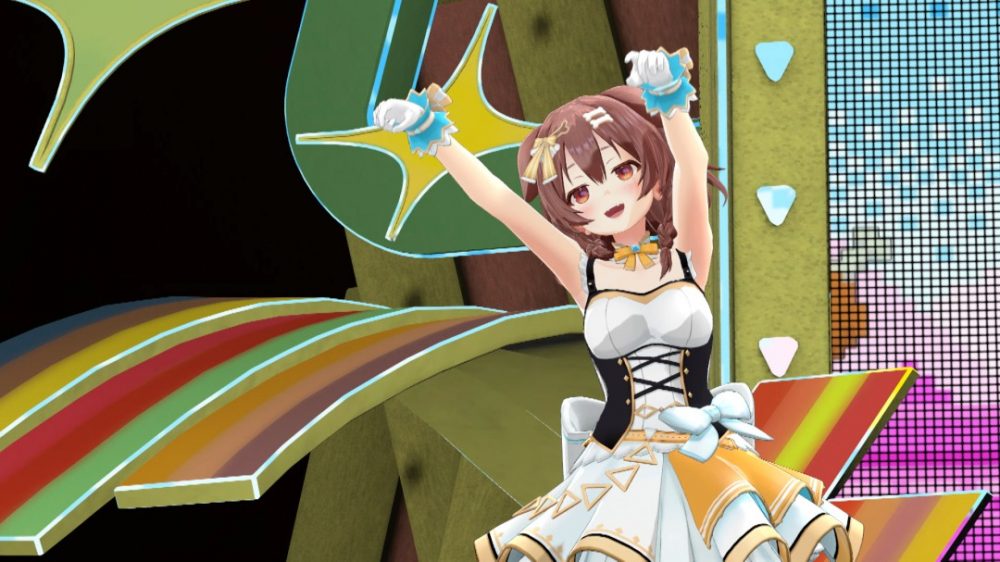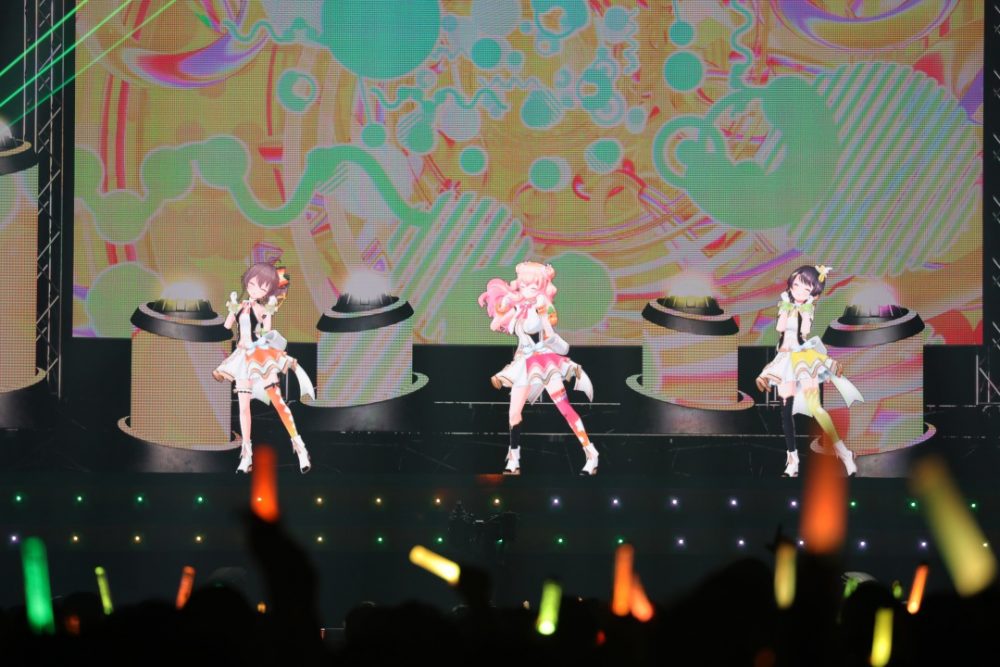 Next were Natsuiro Matsuri, Oozora Subaru, and Momosuzu Nene, among the best when it came to dancing skills among the DAY1 cast. They performed the cute electro-pop song "Candy-Go-Round" with disco ball lighting. They proved themselves as dancing queens of the night with fancy, interchanging dance formations.
Shirakami Fubuki popped off with her first original song "Say!Fanfare!". The lyrics were arranged just for this live event. The arranged lyrics expressed her feelings towards her fans and how she has changed after experiencing many live performances.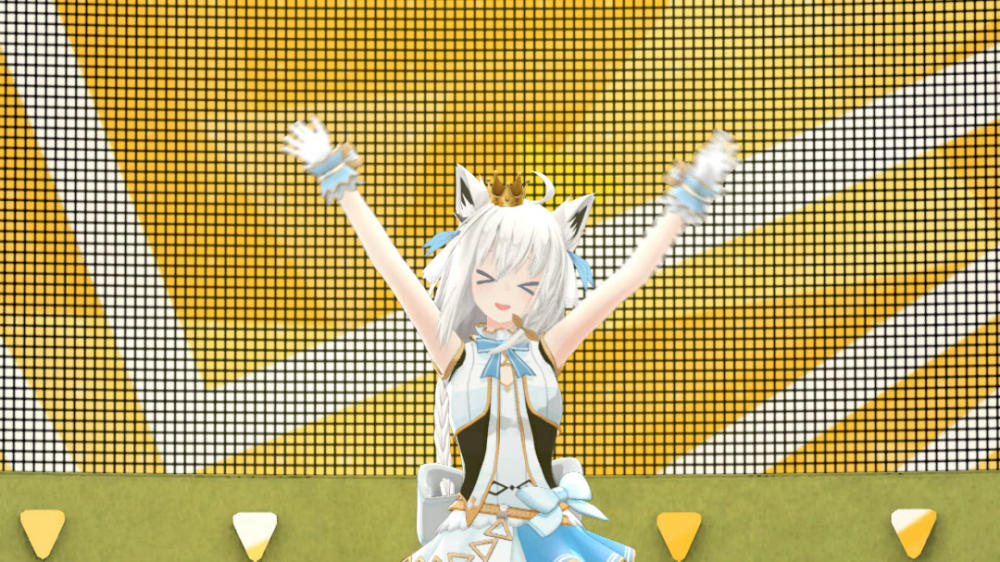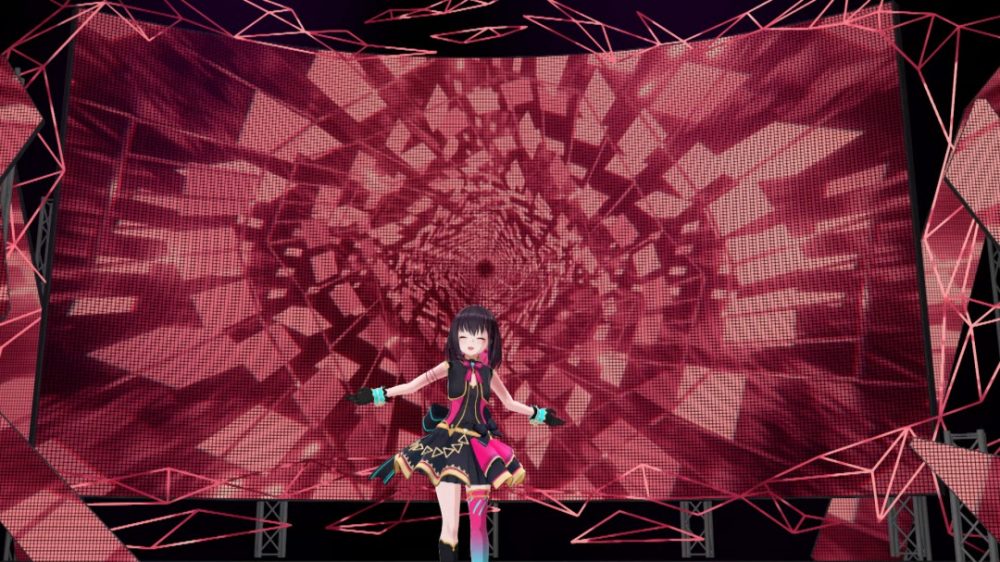 Next up was AZKi, who has recently moved to hololive in April 2022, after long years at hololive production's music label "INNK Music". She performed her original song "Gamen no Nakano Kimi ga Suki". Many of her songs are about questions regarding the VTuber identity but this song is a little different. This song is written from a fan's perspective. The refrain "Gamen no Nakano Kimi ga Suki", also the title of the song, was sung in the performance with her exquisite voice and expressions, making the audience emotional.
Then, Momosuzu Nene from hololive Gen 5 hyped up the stage with her original song "NENENENENENENENE!DAIBAKUSOU". She is known for her dance skills and her aspects as an idol are highly regarded. With the sea of orange light sticks and spotlights, she performed the pop song written by Hige Driver which is refined, yet not overly exaggerated. Her performance filled the stage up with her unique bright atmosphere.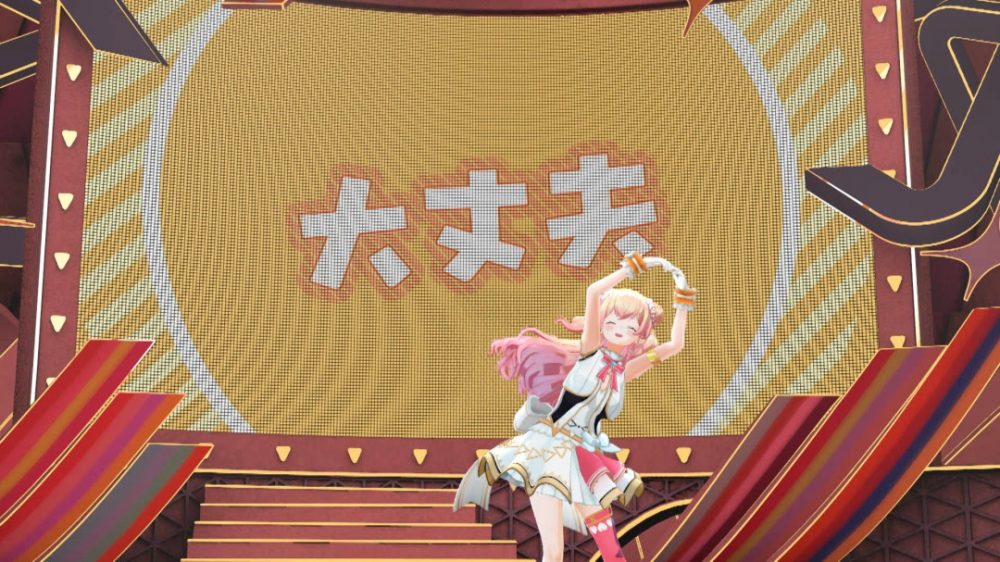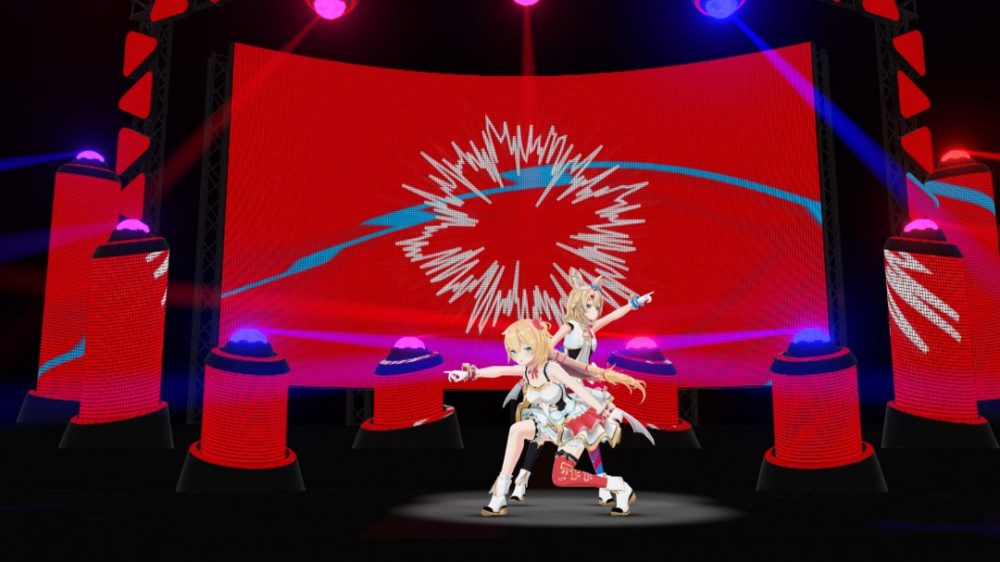 The stage now turned its tables to a rare duo that you can only see in these kinds of events. hololive Gen 1 Akai Haato and Gen 5 Omaru Polka teamed up to perform "Law-evading Rock", a famous Vocaloid song written by Neru. The similar idol outfit with a slight red accent, perfectly synced performance, and the song that matched both talents' unique personalities appealed greatly to the audiences.
"Hewwo, Evewyone!" Himemori Luna who is famous for her baby-like accents made her appearance on the stage with her original song "Zettai Chuusei Nanonanora". From a relaxing first verse to sudden changes in tempo in the second verse and chorus, her performance was a pleasure to watch, soothing the hearts of many in the audience. Her dance, however, despite the popular belief that her stamina is the weakest among all talents, was on-point and surprised everyone.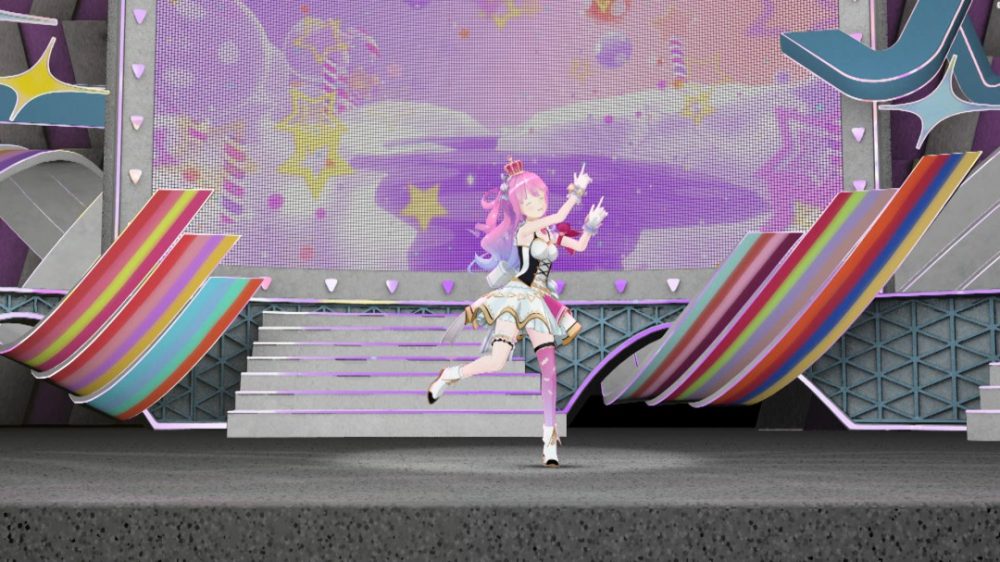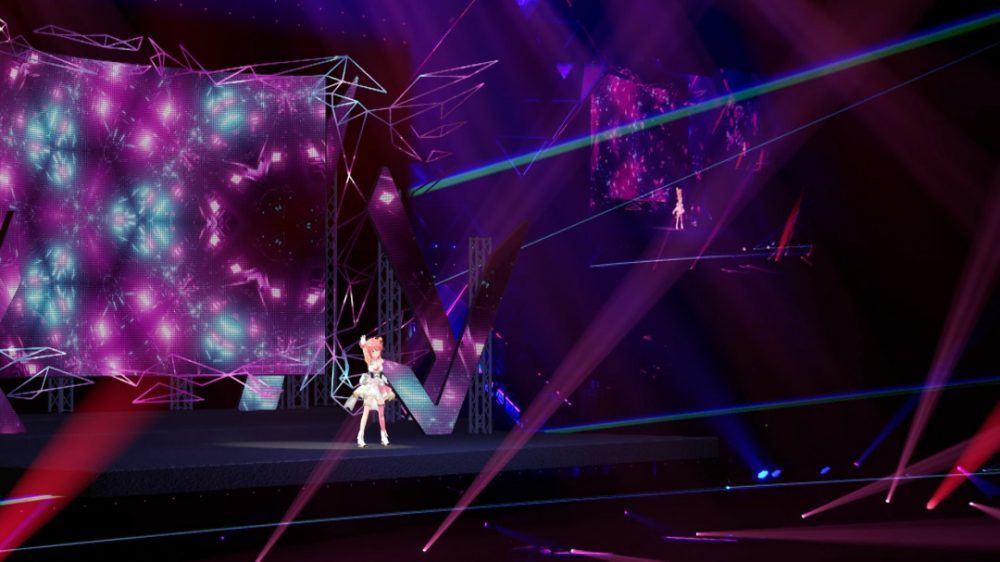 Elite Sakura Miko made her entrance to the stage with her original song "Kagetsu no Yume", a song written by Kanzaki Hiro who is also known as Himemori Luna's papa. Her usual live performances lean towards more stereotypical, idol-like performances. However, in this event, the lasers flying all around the stage showed a whole new Sakura Miko and the event felt like an EDM festival when the drop kicked in.
Do you know what is even more exciting than seeing talents performing on the stage? Talents performing a new song on the stage! Houshou Marine from hololive Gen 3 revealed her new song "Marine Set Sail!!" with a performance that depicts her great journeys through the ocean by back strings, grandiose chorus, and emotional melodies. Although the composer of this song is not yet revealed, that too will help fans to expand their imagination when they listen to this song.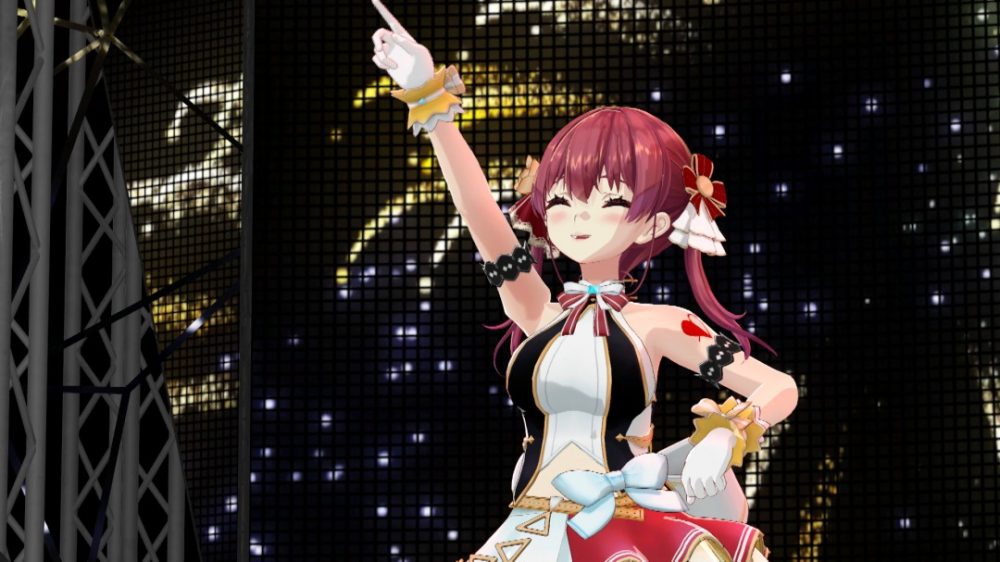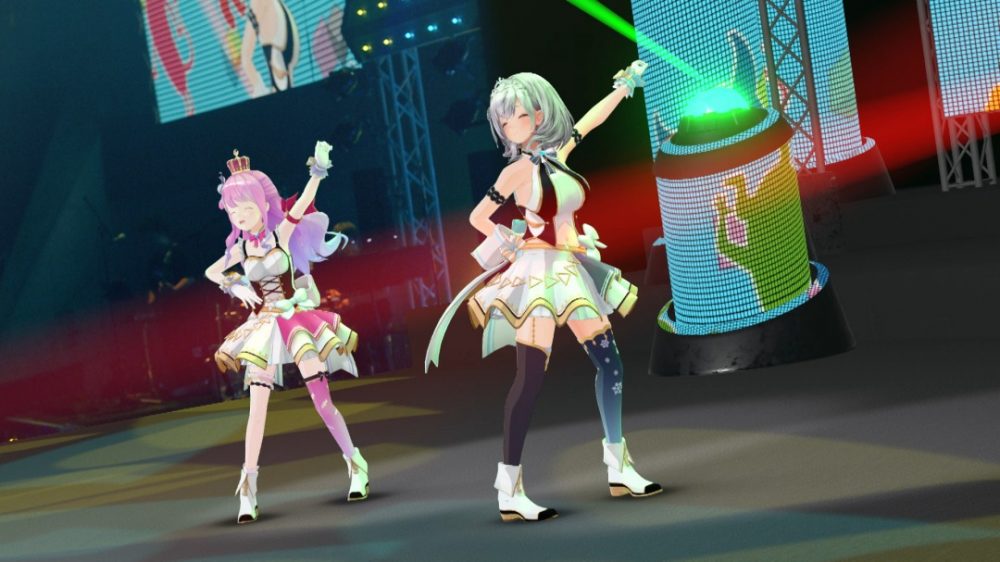 Shirogane Noel from hololive Gen 3 and Himemori Luna from hololive Gen 4 performed a song cover of the famous Vocaloid song "Death Should Not Have Taken Thee!" by Jesus-P. They arranged the characters in the song from "Hero & Princess" to "Knight & Princess" to match their own characters and arranged some lyrics as well. Their playful nature along with the dance chore choreography that resembled game controllers was a sight to see.
Not satisfied with just a new song? holoID and holoEN finally made their long-anticipated 3D debut on the stage. Starting with holoEN, it was Gawr Gura who came up first and performed her original song "REFLECT". This is a song composed by Farhan Sarasin, who also took part in composing songs for holoID. Starting the performance with her usual greetings, and the blend of Spanish and electro music genres, she performed marvelously with her singing skills and powerful dance moves that nobody could have ever expected from her small form.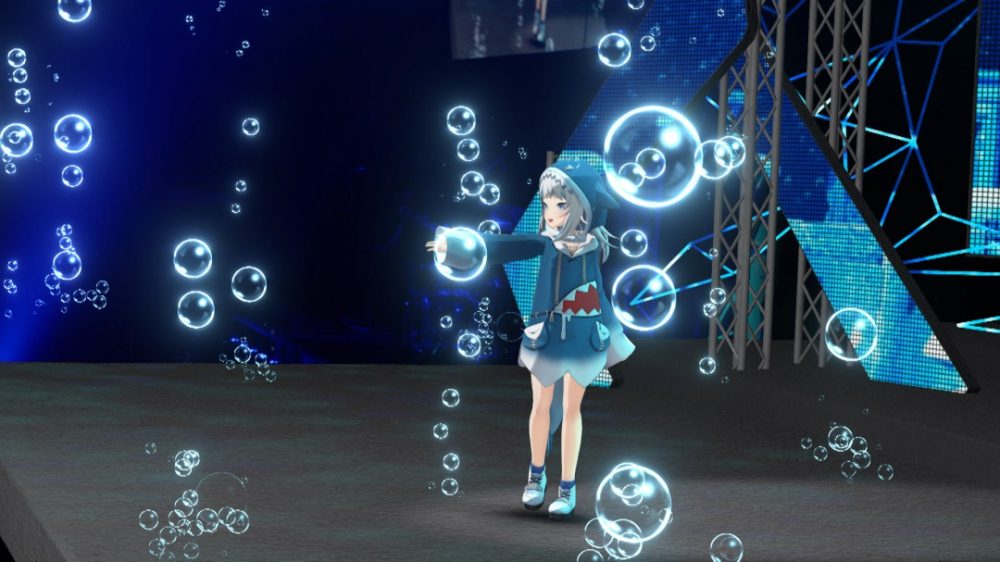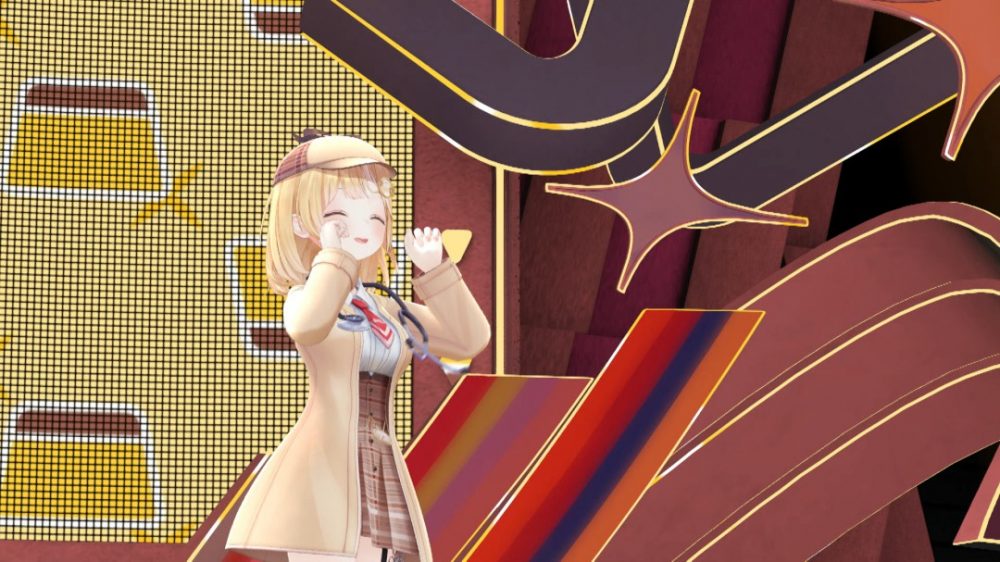 On the contrary, Watson Amelia performed a song cover of one of her favorite songs, Shishido Rumi's "Fushigi Purupuru Pururin Rin!" a song from the anime "Welcome to the N.H.K.". She sang this song on many occasions including in her debut stream. However, this was the first performance with her 3D model and dance choreography. Her fans must have shed emotional tears after watching her performance.
Last but not least was Ninomae Ina'nis. She astonished the audience with the sudden, but usual "WAH!" and made everybody smile. She performed her original song "VIOLET" which is known for the arrangement with a wide range of tastes varying from electronica to even ambient sounds to give out more spacious impressions. When singing lines such as "If I walk in step with the wafting breeze", she herself also walked as well to show a perfect example of how 3D performance should be. Her gentle yet beautiful voice entangled the hearts of audiences.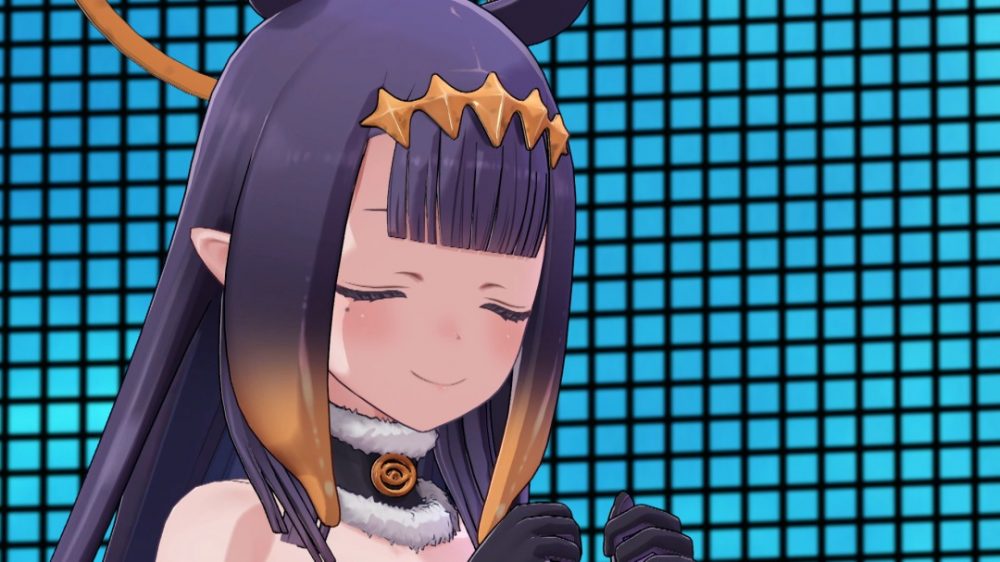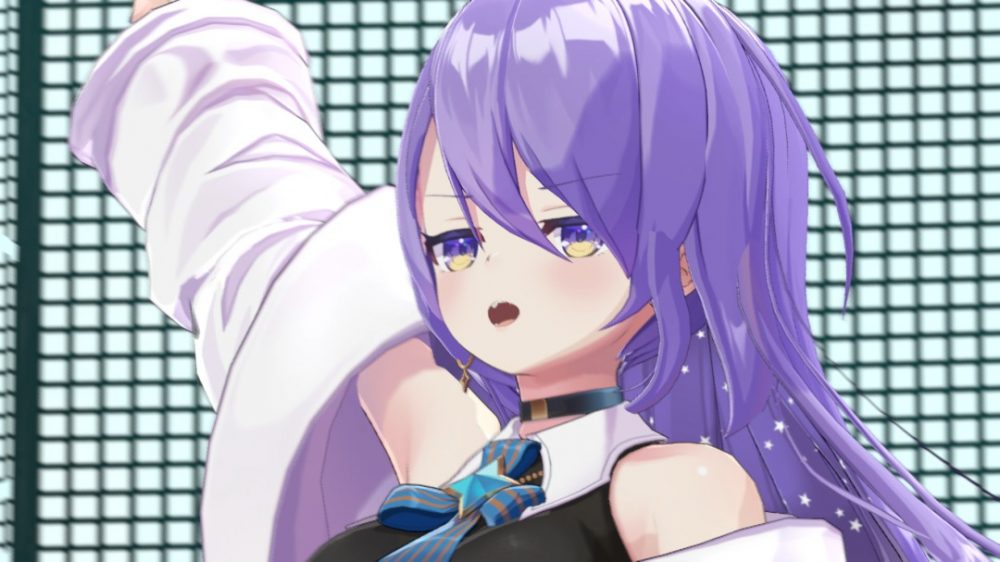 From holoID, it was Moona Hoshinova who made her 3D debut on DAY1. Known for her close relationship with her senpai, Usada Pekora, and the singing skills she shows in her karaoke streams, she performed her 2nd original song "High Tide". Her powerful voice and splendid dance moves captivated the hearts and souls of many audiences.
Returning to the main hololive branch, "Mikkorone", the friendly duo of Sakura Miko and Inugami Korone, made their appearance with the song cover of the famous Vocaloid song "Solar System Disco" by NayutalieN. The whole event space was filled with pink and yellow light sticks while watching the duo performing marvelously in unison.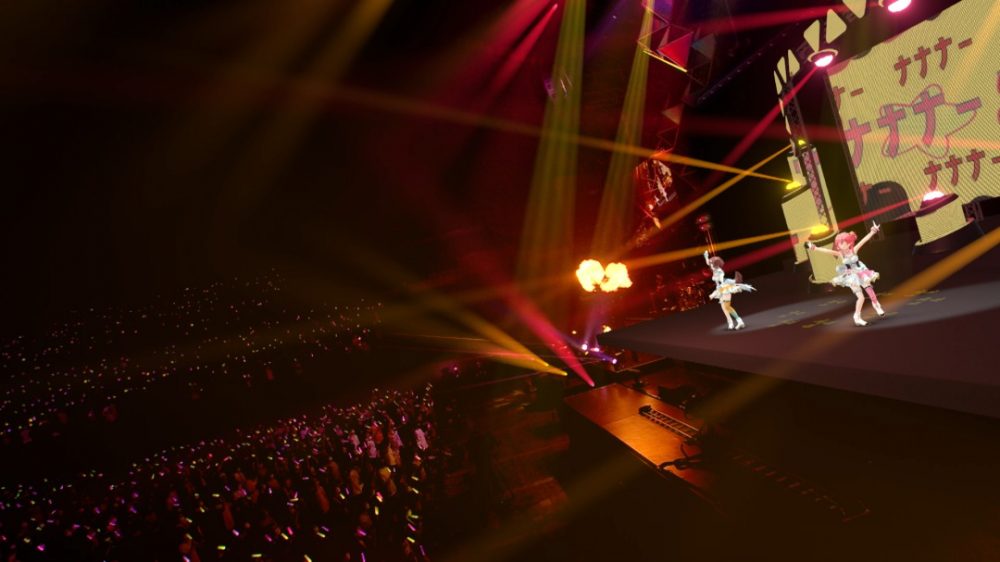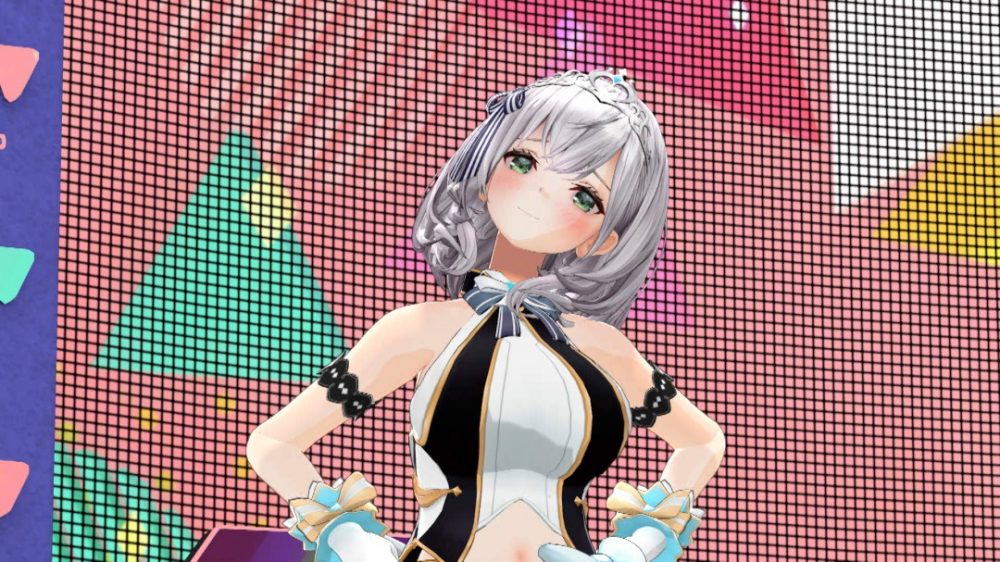 Is it Noe-chan time? It is Noe-chan time! Shirogane Noel from hololive Gen 3 appeared on the stage with her original song "Homenobi" by Sho Watanabe. Along with her soothing voice, Noel asked the audience to move the light stick in unison with the chorus and the audience responded back.
Akai Haato, known for the English she learned when she lived in Australia, performed her original song "Infinity", which is written in English. This emotional song depicts the duality between "Akai Haato" and "Haachama" with a slight hint of dance music in it. She ended her performance by expressing her gratitude to the fans who supported her.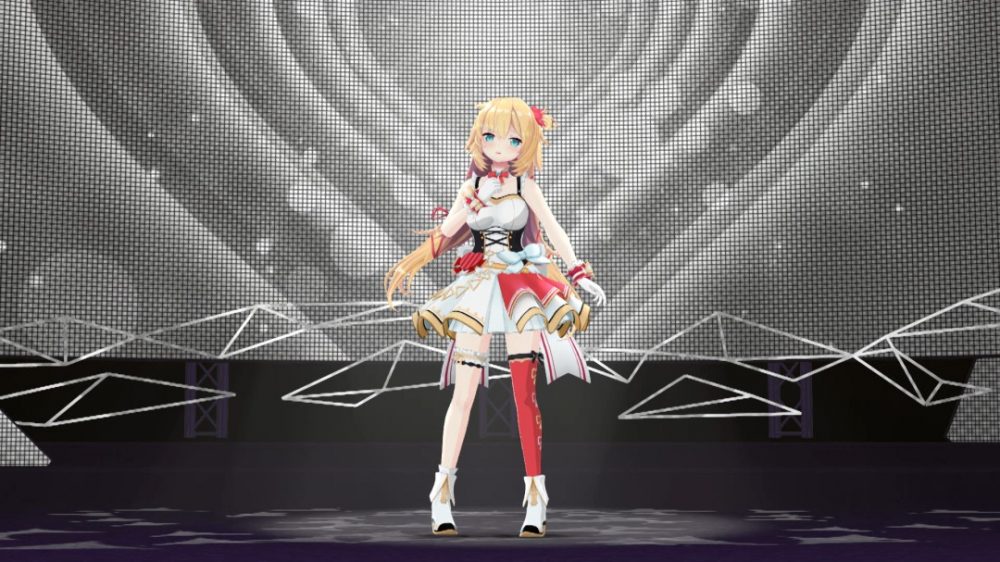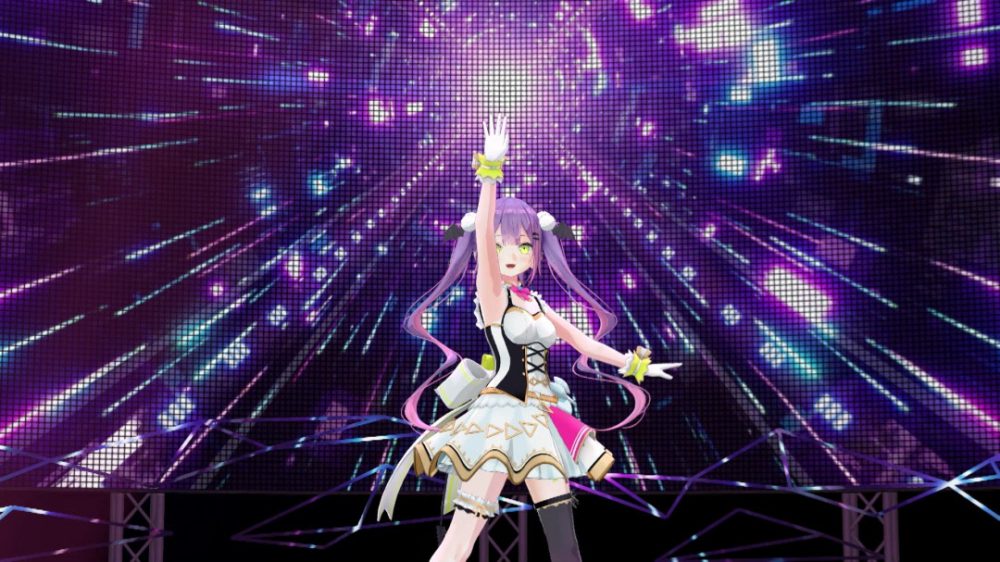 Next up was Tokoyami Towa from hololive Gen 4, who is regarded as one of the divas in hololive. She performed "born to be real", a song composed by ANCHOR from her 1st EP "Scream" which was released in January 2022. The deep melodies of the song set the image of an idol who does not flatter others and sets her own path. The lyrics were very emotional, especially when sung with her beautiful low-tone voice of hers. A round of applause erupted when she kicked in the air along with the lyrics that showed off her emotions.
AZKi & Amane Kanata returned to the stage as a duo and performed a song cover of "Mozaik Role (Reloaded)", a remake of the famous Vocaloid song "Mozaik Role" by DECO*27. These two can cover a wide range of music genres with rock not an exception, and they absolutely rocked the fans to the core.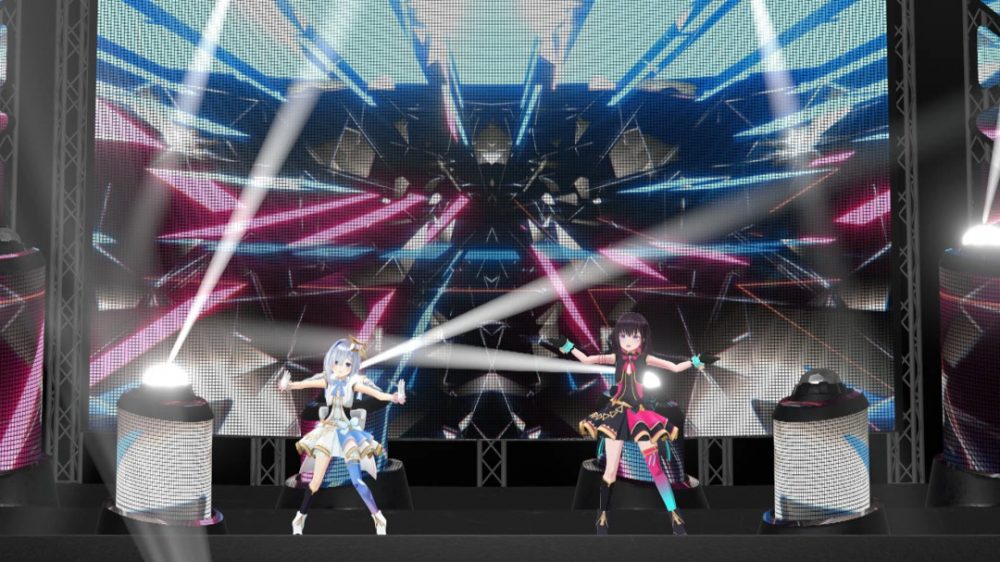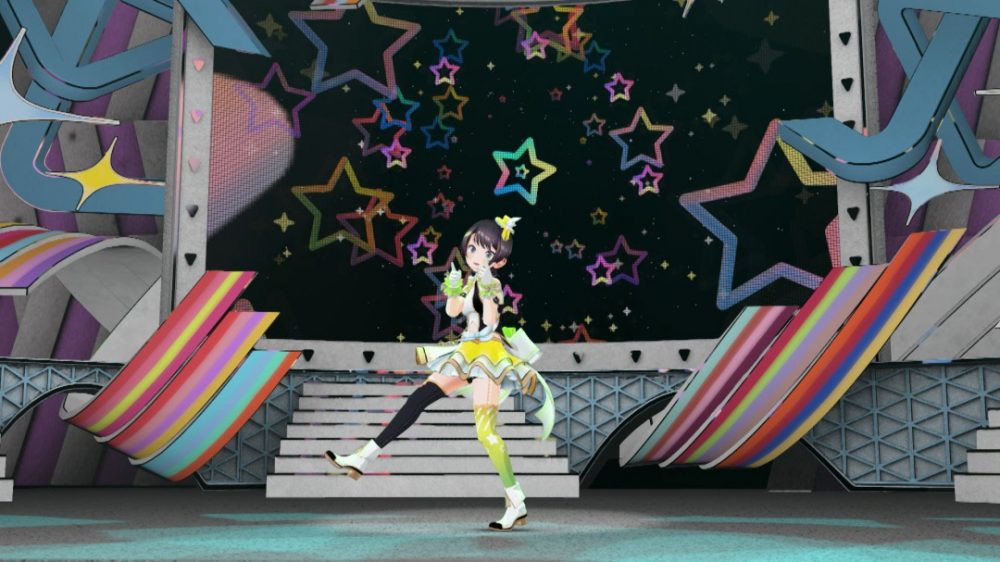 DAY1 was reaching its end but Oozora Subaru said otherwise. Oozora Subaru cheered the audience up and continued the hype with her original song "Pleiades!". Emitting happiness and joyfulness with her dancing, she left no corners of the stages uncovered during the interlude and kept the DAY1 event as cheerful as ever.
Next up was Natsuiro Matsuri with her first original song "HiHi High Tension!". She has been singing many fan-made songs in her streams and she prepared this song as a token of gratitude to her fans at her birthday concert. Along with refined dance choreography, she showed her happy-go-lucky nature by jumping around on the stage. A sunflower-themed background animation fit her nature very well.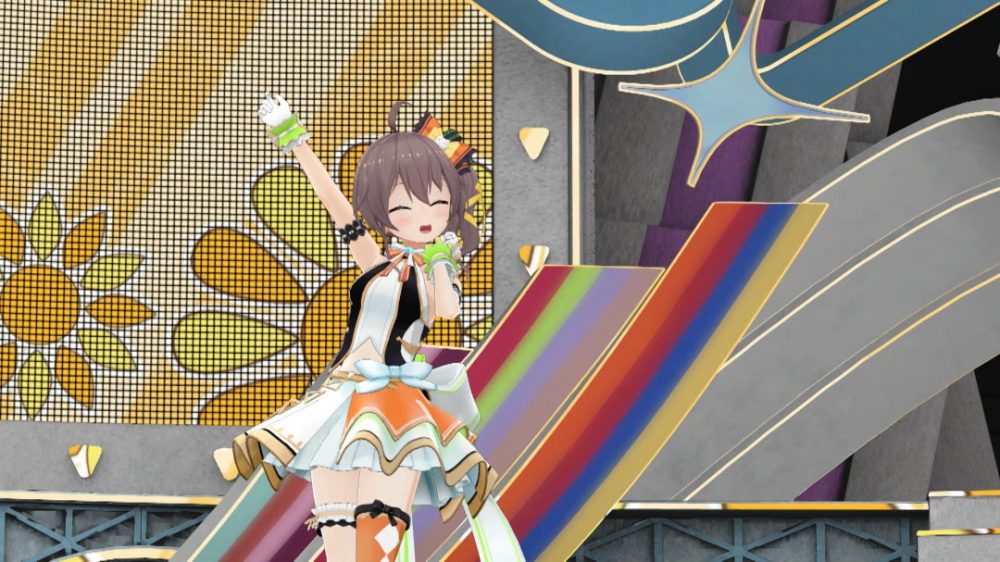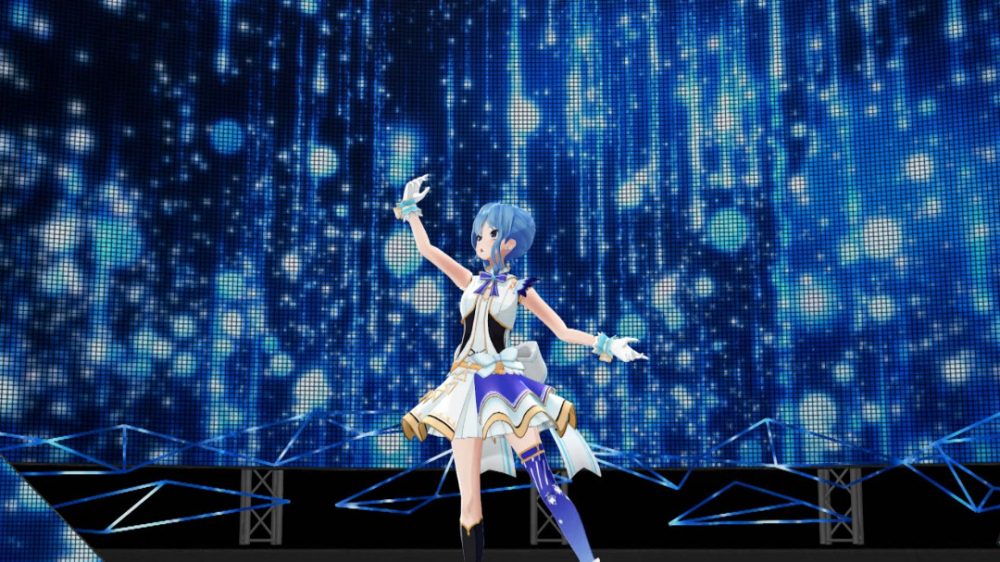 The last solo performance of the day was by Hoshimachi Suisei, the diva who has made waves on many global music charts. She performed her original song "Stellar Stellar" composed by INOUE TAKU, for which she wrote the lyrics herself. The audience was clearly hyped up once they heard the very first line of the song "Just like the shooting star I have become". The band performance also captivated many in the audience with its brilliant sounds that fit with the song as well.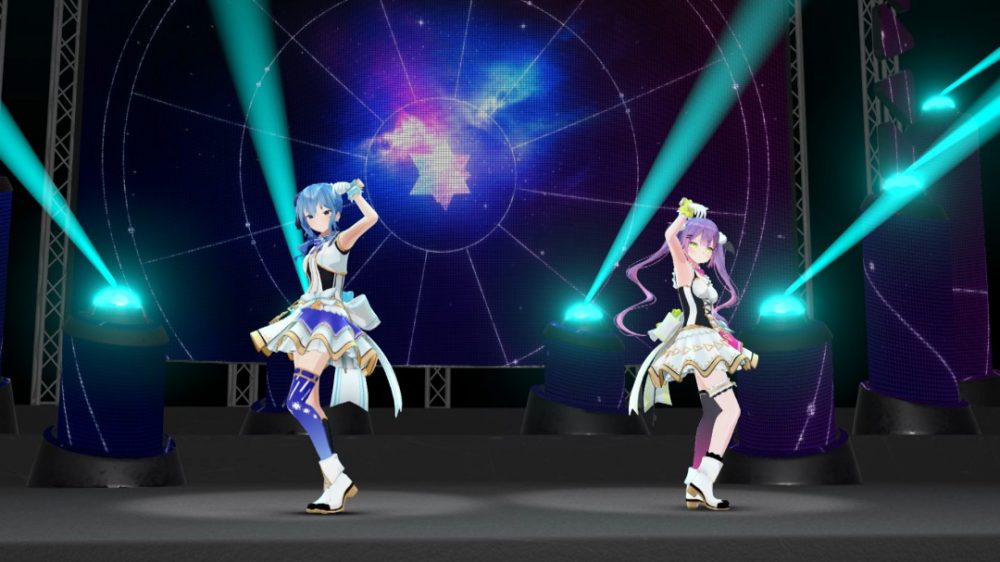 The last unit performance of the day was by Hoshimachi Suisei and Tokoyami Towa. They performed Hoshimachi Suisei's original song "GHOST". With the starry background that resembled the MV of the song, their powerful voices and dancing dominated the stage. It gave many people goosebumps in the chorus where their voices resonated with one another in unison.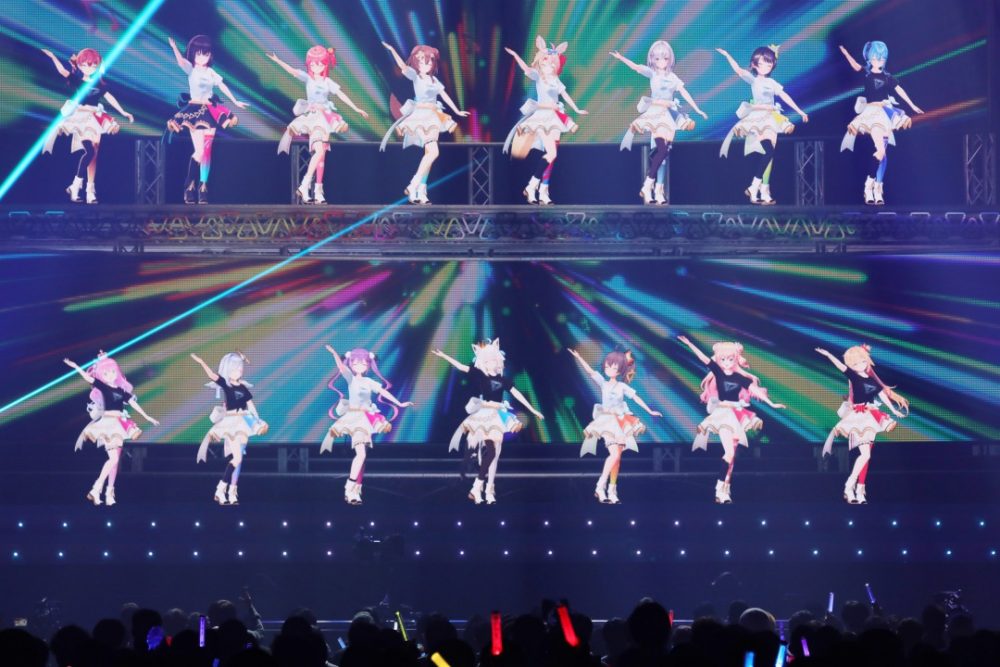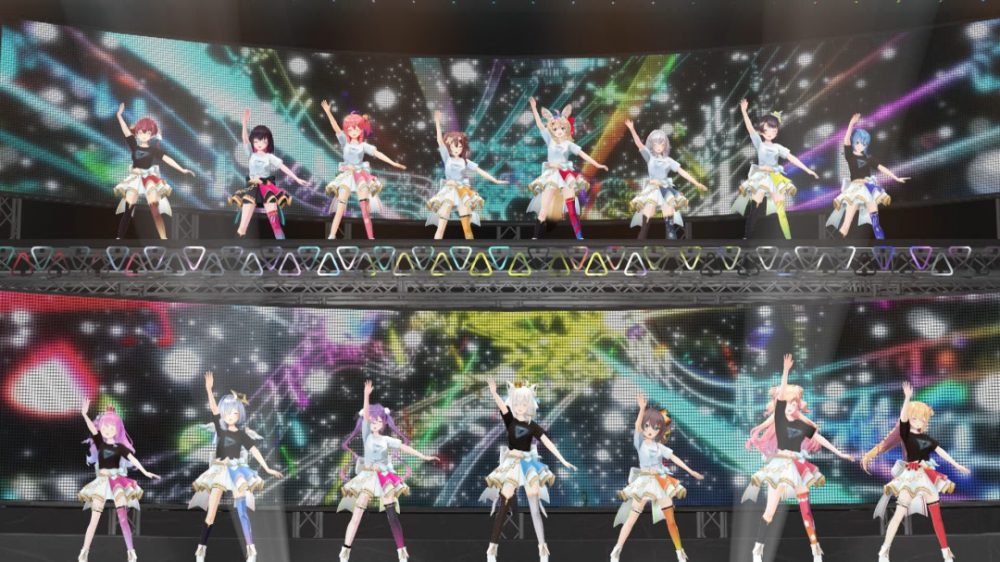 The group performance by the hololive talents marked the grand finale of DAY1. Talents wore either black or white T-shirts of their liking and performed the latest all-star song "Prism Melody", a song composed by 5u5h1. This was THE idol song of the day with the lyrics that connect the past and the future of hololive.
"hololive has not stopped, and never will."
And so ended "hololive 3rd fes. Link Your Wish Supported By Weiß Schwarz" DAY1.
Article by Jin Sugiyama
Photography by Nakamura Yutaka https://twitter.com/yutamacaron
●Tickets for the "hololive 3rd fes. Link Your Wish Supported By Weiß Schwarz" stream archives.
▼SPWN
・DAY1 (March 19): 5,500 JPY (tax included)
・DAY2 (March 20): 5,500 JPY (tax included)
・DAY1 & DAY2 (Bundle): 10,000 JPY (tax included)
* The archives will be available until 23:59, April 20, 2022 (JST)
* You can re-watch the archives as long as they are available.
* After 23:59, April 20, 2022 (JST), the archives will be unavailable even if it is being played at the moment.
Tickets are available at: https://virtual.spwn.jp/events/22031901-jphololive3rdfes
▼Niconico Official Stream
・DAY1 (March 19): 5,500 Nico Nico Points
・DAY2 (March 20): 5,500 Nico Nico Points
・DAY1 & DAY2 (Bundle): Nico Nico Points
*1 Niconico Point is equivalent to 1 JPY (tax included)
* The archives will be available until 23:59, April 20, 2022 (JST)
* You can re-watch the archives as long as they are available.
* After 23:59, April 20, 2022 (JST), the archives will be unavailable even if it is being played at the moment.
Tickets are available at: https://blog.nicovideo.jp/niconews/161864.html
BACK